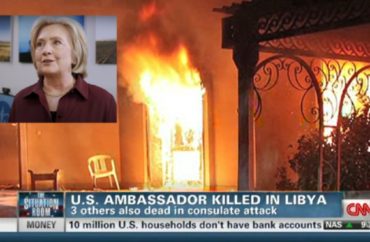 ANALYSIS: 'Presidential fellow' Clinton's course does not appear to mention Libya
Columbia University students will have an opportunity soon to learn about the "decision-making" process on foreign policy issues from Presidential Fellow Hillary Clinton.
The fall 2023 course will help "future policymakers…understand why and how foreign policy decisions are made." The university announced the course with a short skit joking about the twice-failed presidential candidate "running." She will teach the course with Dean Keren Yarhi-Milo.
According to Columbia's announcement:
This course allows students to engage with a range of case studies and examine decision-making in a variety of historical and contemporary contexts, from the search for Osama bin Laden, to the 'red line' in Syria, to negotiating with Iran.
The course will help enrollees learn about how to ensure "global stability."
Notably absent from the announcement are promises to discuss how to make decisions when terrorists overrun a CIA compound in Libya or how to tell the truth about the reasons behind a terrorist attack. The announcement does not explain if "global stability" means leaving a power vacuum in the Middle East for Islamist leaders to take control.
Instead, students will learn how to ground their decision-making in feminist theory. "How do factors such as experience, gender, personality, emotions, and more impact leaders' decision-making processes," students will be asked to discuss in the course. "How do the limits of human cognition and rationality impact leadership during international crises?"
Clinton, whose State Department reportedly ignored diplomatic cables warning about security problems in Libya, will help students discuss questions such as how "bureaucrats and advisors receive and interpret information differently than leaders, and how does this affect the process of decision-making within a government?"
MORE: Hillary Clinton speaks at closed-door 'leadership' event
IMAGES: Columbia University/YouTube; CNN/YouTube
Like The College Fix on Facebook / Follow us on Twitter