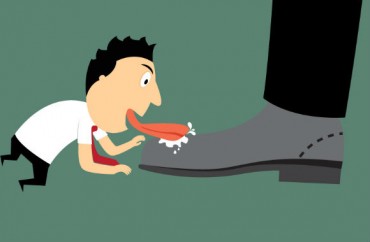 Forced to say 'black lives matter' in second apology
You can think that "all lives matter" – you just can't say it.
The outgoing president of the National Association for College Admission Counseling faced an uproar after he spoke the forbidden phrase of solidarity with humanity, regardless of a person's race or creed, at the group's conference Thursday.
Inside Higher Ed reports that Phillip Trout's initial apology statement did not include the talismanic phrase "black lives matter." He simply apologized for having "offended and hurt so many people" with words that are "not right," and promised the association's board would spend more time "addressing issues of race and human relations."
Apparently the social-media grousing against Trout (much of it private on Facebook) did not subside with that apology. By Saturday, when Trout handed the baton to incoming President Nancy Beane, he issued a second apology from the stage:
"At Thursday's opening general session, I wanted to acknowledge all the violence occurring in our communities along with a statement of sympathy and solidarity for all those affected that should have used the words 'Black Lives Matter,' " Trout said. "I regret that my insensitive statement caused hurt and offense and that the impact of my message of inclusion and respect actually had the opposite effect. I am sorry to have hurt the feelings of so many people, and I offer you my sincerest apology.

"Let me restate," Trout said. "Black lives matter."
#NACAC Prez just said All Lives Matter in front of massive nat'l crowd in C-Bus OH. Interested what kind of backlash that produces….

— Addison Zane (@addison_mills17) September 22, 2016
Let's go over this again. #NACAC16 pic.twitter.com/mrtkx2nOZi

— Rafael S. Figueroa (@Figs505) September 23, 2016
After that brilliant #NACAC16 keynote by @TRINITYPREZ we hear @NACAC president say "all lives matter." #ToneDeaf

— Heath Einstein (@HeathEinstein) September 22, 2016
After CEO Joyce Smith spoke to the conference and asked attendees to "think about our use of social media," another association director, Emory University Assistant Dean of Admissions Brandi Smith, indirectly rebuked her during an open forum:
"For some people, the comments that were made on Thursday were incredibly hurtful," Brandi Smith said. "We can't dismiss the feelings that people have. Their feelings are valid. The emotion is valid."

The idea that speaking up is unacceptable is akin to victim blaming, Brandi Smith said.
The Emory official's solution for not hurting people's feelings by defending all human life, of course, is "cultural competency training."
Like The College Fix on Facebook / Follow us on Twitter
IMAGE: Artit Fongfung/Shutterstock