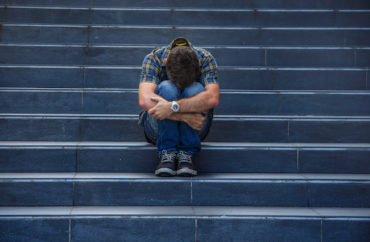 University of New Hampshire assignment also allows students to accuse someone of 'ableism'
An assignment in a course offered at the University of New Hampshire tasks students with "calling out" another person for their alleged racism or offensive language.
The assignment is part of an "introductory communications course on social interaction" taught by Edward Reynolds, the Post Millennial reports.
Neither Reynolds nor a UNH spokesperson responded to requests from The College Fix seeking comment.
Details of the assignment were first shared by the Twitter account "Libs of Tik Tok."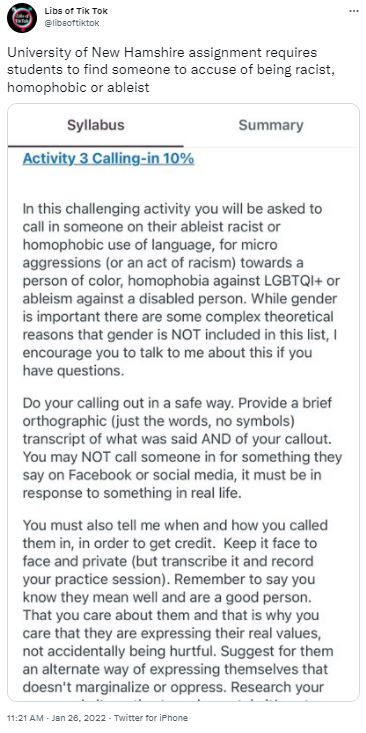 "In this challenging activity, you will be asked to call in someone on their ableist racist or homophobic use of language, for micro aggressions (or an act of racism) towards a person of color, homophobia against LGBTQI+ or ableism against a disabled person," states Reynolds' description of the assignment, titled "Calling-in."
Gender is acknowledged to be "important," but Reynolds stated he omitted it from the assignment for "some complex theoretical reasons."
"Do your calling out in a safe way," the assignment states.
"Remember to say you know they mean well and are a good person," the assignment description continued. "That you care about them and that is why you care that they are expressing their real values, not accidentally being hurtful. Suggest for them an alternate way of expressing themselves that doesn't marginalize or oppress."
According to his faculty bio, Reynolds is a lecturer and "teaches language and social interaction in the Department of Communication at the University of New Hampshire." It states his research explores topics of conflict.
In the assignment, Reynolds specified it cannot be done for something posted on social media, it must be "something in real life."
Students are expected to make an audio recording and written transcription.
"Keep it face to face and private (but transcribe it and record your practice session)," the assignment states. It is unclear as to whether Reynolds is asking students to record the actual "calling out" or just some sort of practice session.
Under New Hampshire law, all parties being recorded must consent to a recording.
Erika Mantz, executive director of the university's media relations division, did not respond to emails and a phone call asking for clarification and context on both the recording aspect of the assignment as well as its pedagogy.
The assignment is noted to be worth 10 percent of students' final grade.
UNH is not the first New England university that has actively encouraged students to report incidences of alleged bias. In August, The College Fix reported that the University of Connecticut's bias reporting system allows students to anonymously flag perceived uses of offensive speech.
Among material flagged at the time was a group photo of the school's College Republicans in which one student appears to be flashing the "OK" hand signal, as well as various other instances of students using non-racial expletives in disputes with one another. Police were called to address several of the reports.
MORE: Students increasingly stressed out over 'call-out culture'
IMAGE: Shutterstock
Like The College Fix on Facebook / Follow us on Twitter