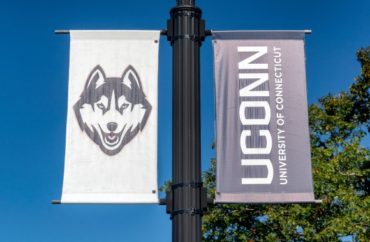 Student free-speech advocates at the University of Connecticut fighting for First Amendment rights on campus recently said the school's bias reporting system is used as a weapon to target free speech.
A review this month of bias response complaints filed with the large public university shows that, at a minimum, the system is used by students to tell on their peers' wording choices to campus authorities.
The College Fix reviewed 53 reports filed with the UConn bias reporting system between 2018 and 2019 and found numerous instances of anonymous students reporting others for their political statements, vulgar graffiti, things said in private conversations and similar circumstances.
For instance, one student reported the College Republicans for a photo on its Twitter feed.
"Is that an OK sign?" the student wrote in the complaint against the UConn Stamford College Republicans filed with the school. "A white power symbol?"
In May 2019, a large group of rowdy male students were told by a female Resident Assistant who was African American to quiet down. During this discussion, one student reportedly said the RA was terrible and called her a "cunt."
After the report was filed, administrators followed up with the RA. She said one of the students in the room that night was rude to her, but no inappropriate comments were made.
Nonetheless, school administrators debated whether to categorize the discussion among the students as "bias," given the RA was black. In the end, a report was made.
In another case, a student reported his roommate for saying the words "Hitler" and "Nazi" during a night playing board games with friends. The student complained his roommate called him an "asshole" and once yelled at him for tripping over his gaming console.
In several cases, the police were called following incidents of offensive speech. In January 2019, an officer was summoned to a dorm after a male student asked an Asian-American female student whether she has a "sideways pussy."
The previous month, police were called after four penises were drawn on a wall of Tolland Hall.
In February, an RA was walking on the fifth-floor of a dorm when he heard the "N word with a hard *ER* being yelled very loudly." After the incident, Community Director Shannon Schmeding told the RA "to report any and all harmful words like that he may hear within the community." The police were subsequently called to the Residential Life office and a report was filed.
In another instance, a student filed a report against other students for dressing up for Halloween as a Mexican immigrant and an Immigrations and Customs Enforcement officer.
"To use traditional Mexican dress as a 'costume' is dehumanizing alone, but to pair it with someone in an ICE uniform makes it entirely unacceptable," the student wrote. "The trauma and dehumanization that immigrant families are undergoing in this country is NOT a joke and certainly not appropriate material for a Halloween costume."
According to UConn's website, a "bias incident" is one that "negatively targets, intimidates, or threatens an individual or group due to race, ethnicity, ancestry, national origin, religion, gender, sexual orientation, gender identity or expression, age, physical, mental, and intellectual disabilities, as well as past/present history of mental disorders."
"This includes, but is not limited to, graffiti or images that harass or intimidate individuals or groups due to the above characteristics," the website reads.
The College Fix obtained copies of the reports through an open records law request. The names of both the individuals filing the reports and those targeted by the reports have been redacted to protect their identities.
The reports were obtained as The Fix continues to investigate the types of complaints that are lodged through bias response teams at college campuses across the nation. Nearly two dozen universities have been included in the investigation so far since it launched in 2019.
The recent debate about the bias reporting system has flared up as free speech activists penned a pro-free speech "UConn Statement" and brought it before the student government for consideration in the spring.
While the school concedes students have freedom of speech, its website contends incidents of "bias" are not protected speech.
"Bias related incidents, as defined in this protocol, are not tolerated at the University of Connecticut and individuals who are victims of bias related incidents may be protected through the Student Code and Connecticut laws related to discrimination, harassment or intimidation based on bigotry or bias," it states.
To steer clear of alleged bias itself, the reporting system tells those making a complaint to "not use pronouns."
"When referencing individuals, use the last name to avoid any confusion," it states.
A spokesperson for UConn did not immediately return a request to comment by The College Fix.
UConn itself has had difficulty policing offensive words on campus. In January 2020, a judge overturned the school's rule against "ridicule" after two Asian-American students were punished for yelling the "n-word" across a parking lot to nobody in particular.
MORE: The College Fix investigates: bias response teams
IMAGE: Ken Wolter / Shutterstock
Like The College Fix on Facebook / Follow us on Twitter