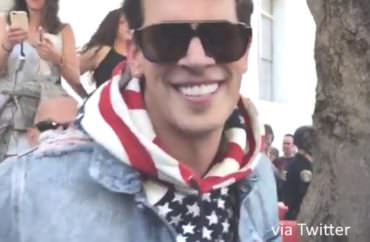 FIRE criticizes administration for using 'generalized threats' to justify censorship
Even after everything Milo Yiannopoulos has provoked in the past two years of U.S. campus appearances – including violent riots at the University of California-Berkeley – the student government at Ithaca College still approved funding for his planned appearance his semester.
Perhaps surprised at the tolerance of its elected student leaders, the Ithaca administration stepped in and banned the College Republicans and Young Americans for Liberty from bringing the conservative provocateur to campus.
The Ithacan reports that the administration went through "weeks of conversations" with the student clubs before dropping the facade a month ago and unilaterally preventing them from bringing Yiannopoulos:
Rosanna Ferro, vice president for the Division of Student Affairs and Campus Life, said … that due to the past protests that turned violent, the college did not want to risk the safety of the community to host Yiannopoulos. IC Republicans and IC Young Americans for Liberty offered to hold the event off campus, [IC Republicans President Caleb] Slater said. Ferro said the college would be unable to hold the event off campus because the threat would still remain.

"It would have had the same impact as far as safety, and it would be impacting the larger Ithaca community," Ferro said. "We want our students to understand that we are a college within a city. This is where people live, and so we have to be thoughtful about the folks that we're inviting to our space."
MORE: UC-Berkeley student paper said violent riots are 'freedom of speech'
This is certainly a new one: a college that claims its jurisdiction to physically protect its campus extends far beyond its campus. (Actually, Ithaca has company in New York state.)
Left unspoken by administrators is who is threatening the campus when Yiannopoulos visits – illiberal and violent thugs who believe words are violence, and violence is justified to squelch words.
The student clubs say the administration is wildly speculating that the event would invariably draw violence, pointing out that attendance would be limited to the campus community, whereas violent threats to Yiannopoulos events generally come from off-campus:
Also, because there are no historical precedents of protests turning violent when controversial speakers have been brought to campus, he said. He pointed to past student protests against speaker Larry Pratt, advocate for gun rights, and former college President Tom Rochon, who was protested heavily by students over concerns about the mishandling of racism on campus. All protests were peaceful.

MORE: Private college claims it has 'eminent domain' over public sidewalk

"There was a lot of uproar with Larry Pratt, but people were very peaceful," Slater said. "There was a lot of uproar with Tom Rochon. … If [students are] going to protest Rochon and they're not going to break windows and they're not going to do graffiti and they're not going to cause violence … is it realistic to say that those same students are going to cause harm over someone they don't even know?"
Adam Steinbaugh of the Foundation for Individual Rights in Education told The Ithacan that he's concerned the administration is using "generalized security threats," rather than any "credible threat," to censor speech it doesn't like:
Steinbaugh said that administrators have the right to take into account safety concerns but that there has been a number of other events Yiannopoulos has spoken at where protests did not turn violent.

"Other people behaving violently in other places a year ago — that is not a speech–protective response," Steinbaugh said.
MORE: Ithaca's Tom Rochon buckles to race protesters, retires
MORE: Female president of Ithaca has 16-year-old sex abuse conviction
Like The College Fix on Facebook / Follow us on Twitter