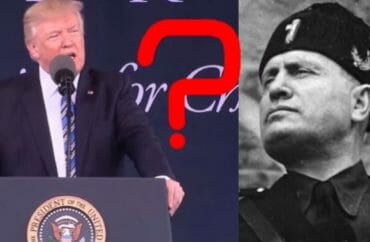 A 15-year-old advanced topics in Italian class at Mount Holyoke College that studies fascism with a particular focus on the dictatorship of Benito Mussolini has updated its course content to include President Donald Trump.
Taught entirely in Italian this spring semester, "Fascisms" examines literary trends, architecture, activism and visual arts to explore "aspects of twentieth and twenty-first century culture in relation to Benito Mussolini's Fascist dictatorship," according to its online course description.
"From Italian Futurism to today's Trump administration, we will follow the development of Fascism(s) with some of the authors who lived through it and who narrated their experience," it states.
Dr. Ombretta Frau, who teaches the course at the women's college, is the former president of the Women's Studies Caucus of the American Association for Italian Studies.
She said the course is "not about President Trump," in an email to The College Fix. She declined to comment further except to say "I do not normally discuss my courses with people who are not my students or colleagues. I teach literature, mostly fiction, that was published in Italy during fascist times and later."
The course description, however, does indicate the Trump administration will be in some way likened with the reign of Mussolini. Frau would also not be the first professor of Italian studies to do so.
Ruth Ben-Ghiat, a professor of history and Italian studies at New York University, wrote a piece for The Atlantic in August 2016 that stopped short of calling Trump a fascist but did point out perceived similarities.
"Trump is not a Fascist. He does not aim to establish a one-party state. Yet he has created a one-man-led political movement that does not map onto traditional U.S. party structures or behave in traditional ways. This is how Fascism began as well," Ben-Ghiat wrote.
The piece goes on to compare Mussolini's rise and personality and supporters with that of Trump's, and argues Trump has made statements alluding to violence that project his propensity for authoritarianism.
As for the fascism class at Mount Holyoke this semester, at least one student there questions the wisdom of in any way comparing Mussolini — credited with killing hundreds of thousands of Italians and Ethiopians during an Italian occupation there — with President Trump.
"It seems this course description is attempting to attract students by playing off of the Trump hysteria. I'm sure the professor does a great job teaching about other figures but comparing a man that is responsible for hundreds of thousands of deaths to President Trump is preposterous," said Mount Holyoke senior Kassy Dillon, who is not enrolled in the course but weighed in on the matter at the request of The College Fix.
"It's a shame that an Italian class at Mount Holyoke would imply that Mussolini and Trump are similar or that Trump is a fascist considering he has decreased the size of the executive branch by repealing hundreds of regulations," Dillon added.
While Frau declined to comment further on the content of her course, she has publicly expressed her disapproval of Trump.
In a 2016 blog post she wrote for Huffington Post Italy she adamantly supported Hillary Clinton and described Trump as one of "the most disgusting (and violent)" men who can not control their impulses, according to a Google translation of the piece.
Frau adds that at the thought of Trump being president, Americans "tremble, sweat and cry." She concluded her piece with: "I'm with her. Go Hillary."
Frau has written at least two other pieces about the president for her Italian speaking audience, noting the size of Trump's "small hands" and criticizing Melania Trump's plagiarized RNC speech.
This isn't the first time a professor at the prestigious women's college has used class time to deride Trump. In 2016, a math professor there urged his students not to vote for Trump, but instead to "vote for someone who thinks women are full and capable and responsible intelligent beings who should not be objectified," The College Fix reported.
MORE: University 'fascism' teach-in targets Trump
Like The College Fix on Facebook / Follow us on Twitter