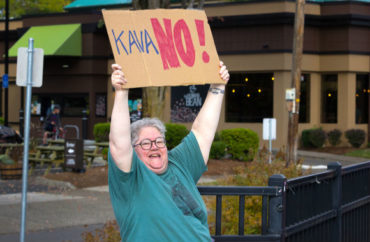 People wanted to challenge his views, but he's only introducing the speaker
It's hard to get more establishment than Leonard Leo, the Federalist Society co-chair who has played a large role in the torrent of judicial confirmations in the Trump administration.
Yet a Maine liberal arts school withdrew an invitation to Leo to play a minor online role in its summer speaker series, saying he offended some people.
The Bangor Daily News reports that Leo was scheduled to introduce the president of the Heritage Foundation, Kay James, at the College of the Atlantic's Champlain Institute, held online this year because of COVID-19.
Though the newspaper said it was "a group of alumni" who raised concerns about Leo's politics, college spokesperson Rob Levin said "many community members" had "issues … with his values":
Because Leo was only scheduled to introduce James, and was not scheduled to be a featured speaker himself, people tuning in to hear James speak would not have had the opportunity to challenge or discuss Leo's advocacy for conservative federal judges, Levin said.
MORE: Activists demand restrictions on Harvard Law's new religious liberty clinic
The college did not rescind invitations to James and its other establishment speaker this year, Hillary Clinton, even though they drew local opposition, because the point of the speaker series is to expose students to different views on controversial public policy subjects, Levin said:
"At the same time, we must value the moment of reckoning our society is going through, and our own work to build a more humanizing human ecology, and understand that we are not functioning in a world of abstract ideas — the policies and actions espoused by people and organizations can have a very harmful effect on members of our community," he said.
In other words, working to confirm conservative judges has "a very harmful effect on members of our community," whose undergraduate enrollment is under 400 students.
Brooklyn College Prof. KC Johnson, who lives in Maine, tweeted that the disinvitation suggests the college's stated commitment to featuring diverse voices is "rather half-hearted":
Standard from college spox suggests fairly robust ideological litmus test for invited speakers. COA is a private college & can do as it pleases, but if a prominent backer of conservative judges is unacceptable, then school shouldn't advertise commitment to ideological diversity.
Standard from college spox suggests fairly robust ideological litmus test for invited speakers. COA is a private college & can do as it pleases, but if a prominent backer of conservative judges is unacceptable, then school shouldn't advertise commitment to ideological diversity. pic.twitter.com/rgS9EmfjT4

— KC Johnson (@kcjohnson9) July 23, 2020
Former Department of Education official Adam Kissel similarly warned the little-known rural college, with little financial cushion, that it would now be known as a social justice warrior "rather than [a] real marketplace of ideas."
MORE: 'Search and Destroy: Inside the Campaign Against Kavanaugh'
IMAGE: Joeseph Frazier/Shutterstock
Like The College Fix on Facebook / Follow us on Twitter