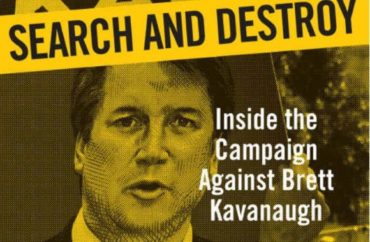 The following is adapted from "Search and Destroy: Inside the Campaign Against Brett Kavanaugh," a recently published book by College Fix alumnus Ryan Lovelace. 
Throughout his career as a federal judge, Kavanaugh had spoken at conferences and taught at universities. After his confirmation to the Supreme Court, he made plans to teach a two-week class on constitutional history for George Mason University's Antonin Scalia Law School in the summer of 2019.
Kavanaugh's course, titled "Creation of the Constitution," was scheduled to be offered to students abroad in Runnymede, England, for two weeks as the 2019 calendar turned from July to August.
Such courses are commonplace for Supreme Court justices — Justice Neal Gorsuch, who replaced the Scalia School of Law's namesake on the high court, taught a similar course in 2018 in Italy. When Justice Kennedy skipped his annual trek to Salzburg, Austria, for a University of the Pacific summer program in 2016, it set off a frenzy of questions about his potential retirement. Kennedy returned to the school and was teaching his 28th year in Austria in July 2018 when President Trump named Kavanaugh as Kennedy's successor.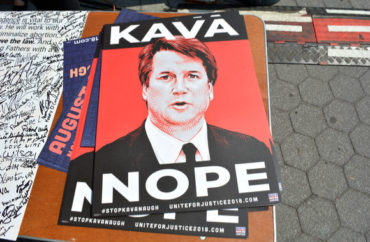 The left, however, was bound and determined to deny Kavanaugh the same opportunity that all of his colleagues had. Demand Justice began running attack ads on Facebook aimed at students, parents, alumni, and anyone else with a connection to George Mason University online. The ads featured an image of Kavanaugh with his eyes covered by a black bar next to the words, "TELL GEORGE MASON UNIVERSITY: FIRE KAVANAUGH." The ads linked to a petition saying, "#CancelKavanaughGMU," and demanded that the university sever all ties with Kavanaugh and issue a "formal apology from administration to survivors." Nearly fourteen thousand people signed the petition more than two months before the course was scheduled to begin, and many were not affiliated with George Mason University. The law school's total enrollment was 525, according to its website, and students began signing up for the study abroad course with Kavanaugh by the time Demand Justice had gotten wind of the school's plans in the spring. The class, which served only as an elective credit, was made available to law students in February and was oversubscribed by the following month.
Undergraduate students did not care. Egged on by Demand Justice, protesters carried hand-made signs and Demand Justice's professionally printed ones to a "teach-in" on campus. The protesters flooded administration meeting and The College Fix captured a video of female students at one administration meeting telling the university's leadership that "the hiring of Kavanaugh threatens the mental wellbeing of all survivors on campus."
Members of the faculty senate called for a new investigation of Kavanaugh. GMU's president, Ángel Cabrera, declined to question the judgment that placed Kavanaugh on the Supreme Court. "This is not a crazy appointment," he told the faculty on the video, which was captured by The College Fix. "This is a Supreme Court justice who is going to be teaching about the United States Constitution."
The Scalia Law School did not cower before the organized mob. Other institutions with a more personal connection to Kavanaugh underwent an entirely different level of scrutiny and reacted differently. The student body at Yale, Kavanaugh's undergraduate and law school alma mater, was largely against Kavanaugh's appointment from the beginning, but it became more aggressive as his confirmation became more likely.
Two hundred and fifty law students, faculty, and alumni joined to declare, "People will die if he is confirmed." When the sexual assault allegations were lodged months later, the students and some faculty lost their minds. More than three hundred of them swarmed the law school for a sit-in, classes were canceled, and protesters emblazoned with the slogans #IBelieveChristineBlaseyFord and #IStillBelieveAnitaHill littered the hallways.
The dean, Heather Gerken, had initially praised the nomination of Kavanaugh, but she quickly became silent and then changed her tune as fifty of her colleagues wrote to the U.S. Senate seeking to delay his confirmation.
"As dean, I cannot take a position on the nomination, but I am so proud of the work our community is doing to engage with these issues, and I stand with them in supporting the importance of fair process, the rule of law, and the integrity of the legal system," Gerken said before Christine Blasey Ford's hearing.
On the day of the Ford hearing, hundreds of Yale Law students and faculty gathered in the Sterling Law Building that had hosted the anti-Kavanaugh demonstrations to watch the event on television together. They were not prepared to change their minds. "We are watching the collapse of the judicial nomination process in the era of extreme partisan ideological polarization," said law professor John Fabian Witt to Yale's campus newspaper during the Ford watch party. "I still stand behind the law school professors' letter."
The Yale faculty members were far from alone in having made up their minds about fact and fiction, innocence and guilt, in the Kavanaugh controversy before the Senate and FBI concluded their work. Projecting their own teenage grievances and high school traumas onto the controversy, they cast Kavanaugh as the villain in their own tragedies.
For example, Issac J. Bailey, an award-winning journalist a decade younger than Kavanaugh, attended not Yale, but Davidson College in North Carolina where he somehow acquired special insight into Kavanaugh's behavior. In "I Went to College with Men Like Kavanaugh. That's Why I Know He's Probably Lying about His Drinking," which was published in the online journal the Root, Bailey wrote:
At Davidson, I saw men of privilege, just like Kavanaugh, get disgustingly drunk during parties on the weekends to the point of passing out or almost passing out, or stumbling back to their dorm room with equally drunk women on their arms—and get up on Monday morning and attend classes as though the weekend never happened. … And they found time to make it to the chemistry lab and spent several hours in the library, sometimes after a sports practice. That's not a practice unique to privileged white men, but it is telling that Kavanaugh used his status as a privileged white man—because he got into Yale—as a reason to believe he could never have behaved in such a manner.
Bailey regarded himself as an unimpeachable narrator with "a nearperfect view of such behavior in college because I never got drunk and could watch it all while sober." He also interviewed his classmates about what Kavanaugh might have done:
Since the Kavanaugh story began galvanizing the country, I've heard from some of my former classmates who tell me, in no uncertain terms, that that kind of drinking was prevalent in colleges like ours and that many people who are upstanding citizens and leaders today participated when we were in college…They are not proud of those moments but are willing to own up to them and say that they are better people today. Why couldn't Kavanaugh simply do the same? Probably because it would give more credence to his primary accuser's claim that he tried to rape her in high school when he was drunk. That's the heart of Christine Blasey Ford's allegation. At this point, it is reasonable to say that Blasey Ford is telling the truth and that Kavanaugh could have done something he can't even remember because he was too drunk.
Bailey does not mention that Kavanaugh plainly acknowledged his alcohol consumption, repeating "I like beer" so frequently it became an Internet meme. This journalist — a recipient of a prestigious Nieman Fellowship at Harvard — believed he had everything he needed to conclude that Kavanaugh "was probably lying." As for the accuser, whom he had not investigated, "I have zero questions of Ford's credibility-zero."
"Search and Destroy: Inside the Campaign Against Brett Kavanaugh" is available from Regnery Publishing.
MORE: One day after protests, Yale Law remains wallpapered with anti-Kavanaugh fliers
Like The College Fix on Facebook / Follow us on Twitter