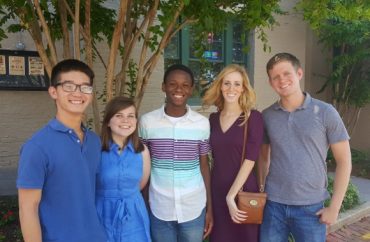 At The College Fix, we help launch journalism careers. Our veteran editors work hand-in-hand with student journalists and recent grads to not only cover campus news, but help young professionals hone their craft and gain valuable reporting experience.
In addition to our popular daily news website, every fall, spring and summer The College Fix/Student Free Press Association supports students and recent college graduates as journalism fellows at some of the most respected news outlets in the nation's capital.
It's a powerful combination, and it works.
Where do our alumni work today? At dozens of news outlets, including: The Wall Street Journal, Washington Free Beacon, Associated Press, BuzzFeed, Daily Caller, CBS, Washington Examiner, Daily Wire, Cox Media, CNS News, Heat Street and more.
We are proud of our alumni and contributors and thrive on supporting and mentoring young journalists. And it's a win-win, because not a week goes by without our student-reported news on The College Fix being picked up and cited by local and national news outlets or being widely shared on social media platforms.
We not only contribute to the national conversation on higher education, we shape it.
This summer, we have five bright young minds working hard at news outlets inside the beltway to flesh out their budding resumes, grow their clip stack, and make valuable networking connections — not to mention becoming better reporters.
Meet our 2016 summer College Fix fellows:
Kirkland An of Wheaton College (IL) is working at USA Today covering policing issues. At The Hill, St. Bonaventure University student Diana McElfresh covers subcommittee hearings and has reported on several topics, including this compelling one: "ISIS survivors urge US: Don't close door to refugees." Rice University student Conor Beck is contributing at The Weekly Standard, where he has exposed a U.S. military battle — over shoe contracts. Point Loma Nazarene University student Jake Henry is busy making his mark at The Daily Caller with a host of articles on everything from NASA to Trump's wall policy. And Elon University graduate Diana Stancy is at the Washington Examiner, where she has covered a wide range of political topics, as well as a recent conference supporting conservative college women.
Meanwhile, The College Fix is always on the lookout for talented and ambitious college reporters to join our ranks. The deadline to apply for our fall 2016 journalism fellowship has also been extended to July 15.
Like The College Fix on Facebook / Follow us on Twitter