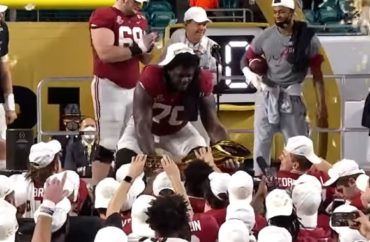 Early in December, a number of universities announced lucrative new deals for incoming football coaches. LSU signed former Notre Dame coach Brian Kelly to a contract that paid him over $9 million a year. USC lured former Oklahoma coach Lincoln Riley to a deal rumored to be worth over $110 million over the life of the contract. And Michigan State locked up its incumbent coach, Mel Tucker, to a deal worth $95 million over the next decade.
Amid the signings were all the usual complaints that college coaches are vastly overpaid compared to other positions on campus. Professors bleat about these lucrative contracts, arguing they demonstrate their schools are far more interested in athletics than educating students. If their university has that much money to spend, they say, why aren't they spending it on education?
But the answer is simple. Professors simply don't generate the amount of money for a university that a successful big-time football coach can.
Take the University of Alabama, where head coach Nick Saban currently makes an estimated $10.6 million per year. According to a nationwide athletic department database, Alabama's athletics brought in $189 million last year, the overwhelming majority of it from the football team. Given Saban's record of competing for the national championship every year (and winning it frequently), it would seem spending around 6 percent of the athletic department budget on his salary is a strong investment.
Alabama isn't alone in generating massive revenues. They are currently dwarfed by the University of Oregon ($392 million), and well behind schools like Ohio State ($233 million), Texas ($200 million), and Michigan ($192 million).
If there was an engineering professor that pulled in that kind of money for the university, it would absolutely be fair to pay them an exorbitant amount.
And it's not as if the school can just take those funds and start paying faculty more money. Schools with big time athletic budgets have giant stadiums to staff and run, plus other non-revenue generating sports to fund. Women's soccer teams all around America would disappear if football ceased to generate millions of dollars.
Plus, the idea that universities aren't properly funded is ludicrous. Sure, some smaller schools may be feeling the pinch as students move to online learning, but tuition continues to spike as colleges and universities load themselves up with administrators and support staff. Currently, Yale has one administrator for every undergraduate student.
So professors who think they are underpaid might want to turn their ire towards school presidents that are stuffing their budgets on things like "diversity, equity, and inclusion" administrators. For instance, UC Berkeley spends $25 million a year and pays 400 employees to advance "equity and inclusion." Those funds could hire a lot more professors or give hefty pay raises to the faculty already there.
In the end, you have to spend money to make money. Those hefty salaries college coaches pull in are largely paid for by wealthy college boosters who are willing to fork over millions of dollars to see their teams succeed. That's millions of dollars that wouldn't exist without a good coach, of which there is a limited supply.
In fact, athletic departments are getting the short end of the stick. They have to operate in the free market, where performance is measured by the cold reality of wins and losses and there is no such thing as "coach tenure." Maybe someday campus administrators will be able to leverage their services to entice alumni to fork over millions of dollars to fund their vaguely designed social justice program.
We'll know things have changed when we see Nick Saban: Diversity Coordinator.
ALERT: Check out our new Campus Cancel Culture Database!
IMAGE: ESPN College Football/YouTube
Like The College Fix on Facebook / Follow us on Twitter