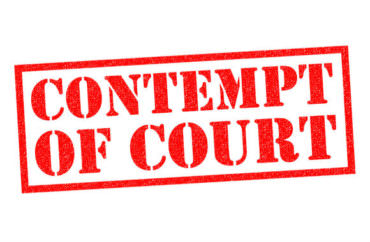 New hearing with new investigator 'appears to violate' its own procedures
California's Pomona College got slapped down in court in October for denying a "fair hearing" to a student accused of sexual misconduct.
Its response? Replace the Title IX investigator, but use the same "evidence" and procedures faulted by Los Angeles Superior Court Judge Mary Strobel to re-try "John Doe."
The member institution of the private Claremont Consortium is pursuing the same strategy as Pennsylvania State University and the University of Texas when courts found serious problems with their Title IX adjudications, according to Brooklyn College Prof. KC Johnson, co-author of The Campus Rape Frenzy:
A common theme to these two cases: Penn State or Texas procedures did not allow a new hearing after the university had adjudicated the case and dismissed an internal appeal. In short, both schools were trying to invent new procedures on the fly to remove procedurally flawed decisions from a court's jurisdiction.
MORE: UT caves rather than explain president's rejection of not-guilty finding
Pomona ignored repeated credibility problems with Doe's accuser, its hired investigator relied heavily on school-requested Title IX investigations for business (suggesting conflict of interest), and it let the accuser skip the campus hearing – meaning she was never asked any questions by anyone in cross-examination.
Despite Judge Strobel telling the school that this failure to even indirectly cross-examine the accuser was unlawful, and that it violated its own rules by inventing an unwritten procedure to accommodate the accuser, Pomona is going forward with a new hearing against Doe.
Title IX Coordinator Sue McCarthy told Doe last month that the "same Investigation Report, Investigation Notes, and Statement of Alleged Policy Violation" issued before the May 2016 hearing would be used in the rehearing.
The new "external adjudicator" – not the Title IX investigator who produced all the materials that will be used again – has until Friday to review "submitted responses and related documents [from the parties] and make a determination of whether there were improper investigative procedures and/or whether there is new evidence … that should be admitted for the purposes of this hearing," McCarthy told Doe.
Here's the notice from the Pomona TIX coordinator, making clear that new hearing will have same evidence as decision that the court invalidated: pic.twitter.com/hIXrB5Q5M9

— KC Johnson (@kcjohnson9) December 9, 2017
MORE: Penn State to retry student after court nixes its Title IX procedures
Johnson writes:
The university did not inform Judge Strobel of this rather startling decision, which appears to violate existing Pomona procedures. Even more remarkably, McCarthy provided no indication that this second "hearing" (which, again, has no authorization under the college's policies) would include cross-examination of the accuser, the defect identified in Judge Strobel's ruling.

Indeed, McCarthy placed an extra burden on JD, demanding that he produce a 20-page report responding to Fellers' original investigative report, including questions for the accuser if she decided to show up for this new hearing.
Indeed, McCarthy's message explicitly says the parties can "decline to participate" in this new hearing – suggesting a Groundhog Day scenario where Doe relives the same unfair hearing with the same absent accuser and same inability to even indirectly cross-examine her:
It's not hard to see what Pomona is doing here. Just as Penn State and Texas attempted, the message: wrongly accused students can sue, and might even win in court—but the victory will be meaningless, because the school will simply re-do the process, without altered procedures.
But the accused students in those other cases punched back.
Penn State gave up after the accused student filed a contempt-of-court motion. After being sued for personally overturning the not-responsible finding, UT President Greg Fenves rescinded his ruling and said the accuser's appeal would go to another administrator. The judge, however, refused to cancel a hearing where Fenves could be compelled to testify how a donation to the school by the accuser's father affected his decision to overturn the original finding. UT settled right before the hearing.
Read Johnson's analysis and McCarthy's message to Doe.
MORE: Judge slaps down college for no cross-examination of accuser
MORE: California governor vetoes anti-due process bill
IMAGE: chrisdorney/Shutterstock
Like The College Fix on Facebook / Follow us on Twitter