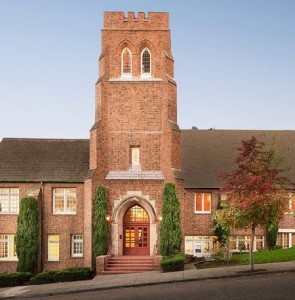 A Muslim college in Northern California has been given accreditation by the Western Association of Schools and Colleges, becoming the first accredited Muslim college in America.
The approval letter from the association to the Berkeley-based college states the school has been given "initial accreditation," adding the institution may confer an accredited "Bachelor of Arts in Islamic Law and Theology" at this time.
The association also commended Zaytuna College for its work to obtain accreditation, saying the label "adds value" to institutions while also providing "accountability."
Zaytuna's founders have praised the decision.
"Five years ago, we introduced an undergraduate liberal arts program inspired by the idea of restoring the holistic education that had been offered in the great teaching centers of Islamic civilization," President Hamza Yusuf stated on the school's website. "Today, Zaytuna's accreditation roots this vision in a reality recognized within American higher education. It gives our community its first accredited academic address in the United States. And we hope, God willing, that there will be more such Muslim colleges and universities to come."
The March 8 announcement from the school noted the Western Association of Schools and Colleges is recognized by the U.S. Department of Education and also accredited Zaytuna's neighbors: Stanford University and UC Berkeley.

The college describes its mission as "grounding students in the Islamic scholarly tradition as well as the cultural currents and critical ideas shaping modern society."
Hatem Bazian, a senior lecturer of near eastern studies and ethnic studies at UC Berkeley, praised the development on The Berkeley Blog, saying that "at a time of such extreme negative news cycle focusing on Muslims, the initial accreditation vote is a most positive development for a community that has been battered for more than a decade."
Bazian said he co-founded Zaytuna College along with Yusuf and Imam Zaid Shakir.
"What is unique about Zaytuna College is a curriculum that re-centers Muslim intellectual pursuit in the contemporary world, with a robust and broad conceptualization of Adab which 'includes decency, comportment, decorum, etiquette, manners, morals, proprietary, and humaneness,'" he stated. "The purpose of Zaytuna education (and I would argue of Muslim intellectual pursuit) is to bring forth a conscious human being possessing agency that is directly and foundationally connected to the Divine."
The school's website states that the institution first offered a "summer Arabic intensive, a two-month, residential language course," then its undergraduate program welcomed its inaugural freshman class in the fall 2010.
"In the ensuing years, Zaytuna College continued to refine its academic identity, rooting itself firmly in the American liberal arts tradition," the website states. "By 2012, it also secured a flagship building for its permanent campus atop Berkeley's famed 'Holy Hill,' an academic neighborhood named for the host of religious colleges that have made their homes there."
Zaytuna College conferred its first undergraduate degrees to its initial students last spring, its website states.
"Arriving into America's academic space will translate to Zaytuna being a recognizable and a critical partner in shaping higher education in the period to come," Bazian added. "Higher education is going through a profound transformation, driven by economic imperatives, information technology advancement and corporatization and commodification of knowledge being the pinnacle of the value pyramid."
"An accredited institution makes it possible to open many doors and creates local, regional, national and international academic relations. In a short period of time, Zaytuna College will be be ready to welcome students from across the globe and provide the much-needed context to understanding Muslim circumstances in the West, as well as provide diverse opportunities to engage in conversations with faith and civil society partners that are dedicated to seeing and bringing forth a different world."
The left-leaning Think Progress reports the school's founders have "been the subjects of minor controversy in decades past, but have become passionate defenders of moderate Islam in recent years, with Yusuf and Shakir often traveling together to give talks to Muslim students across America denouncing extremism."
"According to a 2006 New York Times profile of Yusuf and Shakir, they reportedly see Islam not as a monolithic entity, but a tradition that 'is open to a diversity of interpretations honed by centuries of scholars,'" Think Progress reports. "The Times also reported that Yusuf hosted a popular TV reality show in the mid-2000s in which he bussed groups of Arabs across the United States to break down Arab stereotypes about Americans, introducing the travelers to people such as antiwar protesters demonstrating outside the Republican National Convention."
Like The College Fix on Facebook / Follow us on Twitter
IMAGES: Facebook