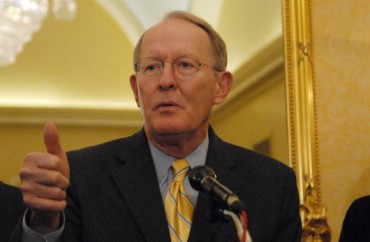 Committee chairman hauls out controversial '$1 million' statistic again
It is never easy to pay for college. It is just easier than most people think.
That was Sen. Lamar Alexander's message to professionals, reporters and students at the American Enterprise Institute on Wednesday.
The Tennessee Republican, chairman of the Senate committee that's overseeing the reauthorization of the Higher Education Act, warned politicians and pundits to "stop telling students that they cannot afford a college education."
Alexander pointed to an op-ed he wrote for The Wall Street Journal earlier this month, claiming that public two-year colleges are free or nearly free for low-income students.
He cited a College Board statistic that community college tuition and fees cost around $3,300 per year. The federal Pell Grant, he noted, also averages $3,300 per year.
Alexander's op-ed drew scorn from education policy experts on the right, who accused Alexander of using misleading statistics and luring young people into debt loads that couldn't pay off, as The College Fix reported.
Many letters to the editor also criticized Alexander's position, given that students who actually graduate from four-year institutions are carrying an average $27,000 in debt.
Alexander said a college degree will earn a person $1 million more over his or her lifetime than a person without a degree. (That figure is outdated and belongs in the "Hall of Fame for Misleading Statistics," according to George Leef of the Pope Center for Higher Education Policy.)
"I don't pretend that our system is not in need of reforms," Alexander said. "But let's begin with the shared recognition that life without education is more expensive, and that the cost of our country will be great if we don't increase the number of Americans with postsecondary education and degrees.
"We need to grow the percentage of Americans with college degrees over the next five years, otherwise we are on track to fall short by about 5 million workers with degrees," Alexander said.
Compliance costs are greater than tuition
The former governor of Tennessee and education secretary pointed to several measures that the federal government can take to encourage colleges to control their costs, operate more efficiently and help students graduate more quickly with less debt.
The first step, he says, is to reduce overregulation of roughly 6,000 schools.
"Every work day, each one of our higher education institutions gets a letter, or a guidance or a new rule from the US Department of Education," Alexander said.
Alexander referenced a study by the Boston Consulting Group that found that Vanderbilt University spent $150 million in 2014, or $11,000 per student, to comply with federal regulations. That $11,000 is more than the average tuition and fees of public universities in the United States, around $9,000 a year, he added.
"We can save time, energy, money and encourage more college degrees if we reduce higher education regulations," Alexander said.
Spread the risk
Another Alexander proposals would ensure that institutions share the risk of lending to students.
According to the Department of Education, Alexander said, around 17 percent of the more than 41 million borrowers with outstanding student debt are currently in default, meaning they haven't made a payment within nine months.
"We know that some students today are borrowing more than they should," Alexander said.
"One way to address overborrowing is to ensure that colleges have some responsibility to, or vested interest in, encouraging students to borrow wisely, graduate on time and be able to repay what they have earned," which in turn can reduce the cost of college.
Alexander said colleges should encourage students to complete their education more quickly, with nearly half of college students taking longer than six years to complete a degree or not finishing at all.
While mentioning the education committee's work on a new higher education bill, which governs federal student financial aid programs, Alexander did not talk about that work in detail.
Alexander has also introduced the FAST Act with Sen. Michael Bennet, Democrat of Colorado, which would simplify the student aid application process by cutting the number of application questions from more than 100 to just two.
Like The College Fix on Facebook / Follow us on Twitter
IMAGE: AMSF2011/Flickr