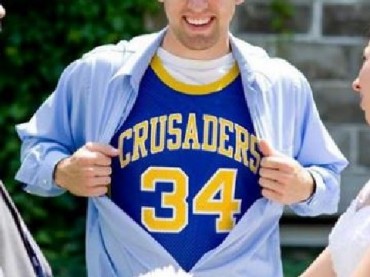 A small, Christian college in Watertown, Wis., has decided to toss its longtime "Crusaders" mascot, saying the word is too controversial.
"In light of our global outreach and more advanced understanding of how things could be perceived, we want to avoid controversy," the university's executive vice president Matt Davis told The College Fix in an interview.
The university, Maranatha Baptist, has been the "Crusaders" since its founding in 1968. But Davis said the campus, located about 45 miles east of Madison, believes it is time for a change – despite fielding no complaints on the issue.
"We haven't had any (complaints), but words can change overtime, and our university has no connection with the Middle Ages … as the name Crusaders may suggest," Davis said.
According to Merriam-Webster, when Crusaders is capitalized it is defined as "any of the military expeditions undertaken by Christian powers in the 11th, 12th, and 13th centuries to win the Holy Land from the Muslims."
Yet the word in a more casual sense is defined as "a remedial enterprise undertaken with zeal and enthusiasm." Many Christian high schools across the nation today have "Crusaders" mascots, according to an internet search.
Maranatha's mascot does not include an image of a Medieval Christian soldier, just a big "M" or the words "Crusaders" in italics. The university incorporates the ends of trumpets in much of its imagery as well.
But Davis said that at Maranatha, which enrolls about 1,400 students and runs a sports program that includes football, the mascot change has been a discussion topic for a long time, and the Board of Trustees believes now is the appropriate time to make the change.
That's because the university is in the process of updating its image, and Maranatha Baptist Bible College was recently changed to Maranatha Baptist University in December.
Students and other stakeholders have been asked to suggest new mascot ideas that incorporate the school's navy and gold coloring, and campus leaders have hired a professional design firm as the process unfolds.
A decision on the mascot is expected this spring.
"The new mascot will be a good rallying point," Davis said.
It's unclear what students think of the mascot change, but a photo of a student dressed in historic-looking armor posted last February on the university's Facebook page has garnered 227 "Likes," with one commenter noting: "HA do you know this pic has more likes than ANY other picture on Maranatha's page."
College Fix contributor Samantha Watkins is a student at Point Loma Nazarene University.
IMAGE: Facebook Screenshot
Like The College Fix on Facebook / Follow us on Twitter