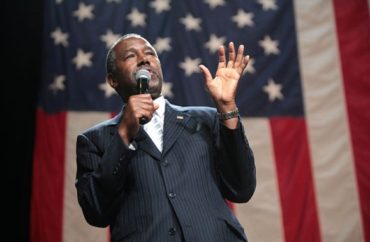 The goal is to 'revive historic American values and virtue on the eve of the 250th anniversary of America's founding'
A Christian university in Missouri will host the "National Symposium on Patriotic Education" this September.
This is the first year for the event. It will include "keynote addresses by nationally known speakers on the importance of patriotic education for our nation."
Organizers have already confirmed notable speakers such as former Secretary of Housing and Urban Development Ben Carson and former Press Secretary Sarah Huckabee Sanders.
Open to the public, it will feature a launch of HardWorkU.org, which aims to provide free resources about America's founding. Participants can watch "keynote addresses by nationally known speakers on the importance of patriotic education for our nation."
"The cultural climate in America and the need for an emphasis on patriotic education is the driving force for us," Marci Linson, vice president for patriotic education at the College of the Ozarks, told The College Fix through a spokesperson.
"We believe there is much right with our country, and we intend to take a leadership role in patriotic education," Linson said, "by helping students of all ages learn about liberty, sacrifice, free enterprise, and service."
The livestream symposium "increases our outreach and allows us to draw many concerned citizens into the conversation about the importance of patriotic education," Linson said. "These topics, and the resources we provide, are for all those who care about the future of America – parents, teachers, grandparents, and concerned citizens."
Recent polls underscores need for patriotic education
Linson said that recent surveys show why this event on September 16 and 17 is needed.
The vice president said:
Americans are increasingly willing to undermine historic American symbols like the national anthem. According to the Patriotism Poll, a third of Americans believe that it is alright to burn the American flag. Fifty percent of young Americans do not consider themselves American patriots. Two thirds of young Americans believe that America is headed in the wrong direction. Eighty three percent of Americans cannot identify the rights protected by the first amendment. Only 44 percent of Gen Z thinks that the American flag most accurately represents freedom.
The "Patriotism Poll" is likely in reference to YouGov polling on patriotism.
The university wants people to learn about the principles that make America an exceptional nation.
"Learning about liberty is the essence of patriotic education. Learning about liberty is not limited to a set of historical dates or pieces of information," Linson told The Fix. "It requires that Americans cultivate a common, shared identity inspired by the ideals and heritage that formed our nation."
Sessions include "Honoring the sacrifices of Veterans and their families," "Strengthening free enterprise through hard work" and "Transforming society through virtuous public, civic, and military service."
MORE: Trump's 1776 Commission report promotes American patriotism
IMAGE: Wikimedia Commons/Gage Skidmore
Like The College Fix on Facebook / Follow us on Twitter