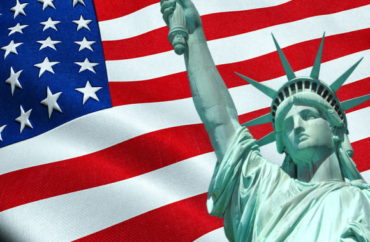 A commission convened by President Donald Trump that aimed to advance patriotic education and take on leftists' argument that America was never great released its report Monday.
Click here to read the report.
The 45-page report by the 1776 Commission was billed by the White House as "a definitive chronicle of the American founding, a powerful description of the effect the principles of the Declaration of Independence have had on this Nation's history, and a dispositive rebuttal of reckless 're-education' attempts that seek to reframe American history around the idea that the United States is not an exceptional country but an evil one."
It listed the challenges to America's founding principles as slavery, progressivism, fascism, communism, racism and identity politics. It calls on states and school districts to "reject any curriculum that promotes one-sided partisan opinions, activist propaganda, or factional ideologies that demean America's heritage, dishonor our heroes, or deny our principles."
Its conclusion stated in part:
America's founding principles are true not because any generation—including our own—has lived them perfectly, but because they are based upon the eternal truths of the human condition. They are rooted in our capacity for evil and power for good, our longing for truth and striving for justice, our need for order and our love of freedom. Above all else, these principles recognize the worth, equality, potential, dignity, and glory of each and every man, woman, and child created in the image of God.

Throughout our history, our heroes—men and women, young and old, black and white, of many faiths and from all parts of the world—have changed America for the better not by abandoning these truths, but by appealing to them. Upon these universal ideals, they built a great nation, unified a strong people, and formed a beautiful way of life worth defending.

To be an American means something noble and good. It means treasuring freedom and embracing the vitality of self-government. We are shaped by the beauty, bounty, and wildness of our continent. We are united by the glory of our history. And we are distinguished by the American virtues of openness, honesty, optimism, determination, generosity, confidence, kindness, hard work, courage, and hope. Our principles did not create these virtues, but they laid the groundwork for them to grow and spread and forge America into the most just and glorious country in all of human history.
The commission's report is also seen as a rebuttal to the New York Times' heavily criticized and partially debunked 1619 project, which argues the American Revolution was fought in part to maintain slavery and that Abraham Lincoln was racist.
In an editorial, The Wall Street Journal praised the report for "understanding our freedom and prosperity as 'direct results of America's unity, stability, and justice, all of which in turn rest on the bedrock of our founding principles.' Today that is taken as a conservative interpretation, though liberals once believed it too. It also happens to be true."
On Monday, the report was a trending topic on Twitter, drawing ridicule and scorn from professors and liberal activists.
MORE: Black conservatives counter NYT's flawed '1619 Project' with message of unity
IMAGE: Donfiere / Shutterstock
Like The College Fix on Facebook / Follow us on Twitter