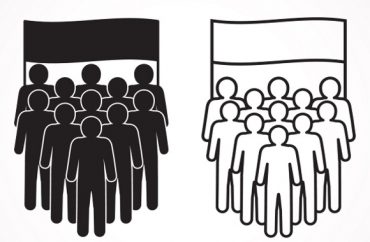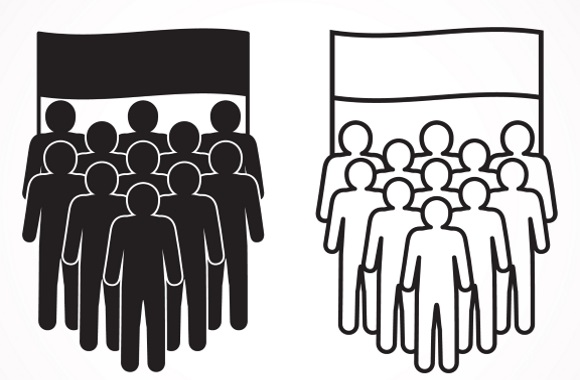 Claremont McKenna College resources include options for black, Latino students
Claremont McKenna College is offering students this spring semester a variety of mental health resources that are segregated by race and other identities.
In addition to overall counseling resources provided in general to all students, the private, Southern California-based institution now offers specialized ones, including a group called "Pause."
It was advertised in an email to students recently "For Black Students," and aims to help them "process racialized trauma and to engage in supportive discussion."
There are also counseling and support opportunities advertised "For Latinx Students," including "Mental Health Healing Circles."
Also on the docket is a "QRC Coloring and Questions Drop-In Event" advertised for LGBTQ+ students. There's also counseling services available for Asian and Pacific Islander students.
The college has no group offered specifically for white students, who comprise 38 percent of the student body at the college. This despite the fact that two white males were found dead on campus in 2019, one from an accidental drug overdose and another from suicide.
One of the students who died was white, the other had a white father and Asian mother.
The email was sent by the school's student government presidential advisor for mental health and wellbeing, who sends out emails to the student body about various support services and did not respond to a request seeking comment from The College Fix.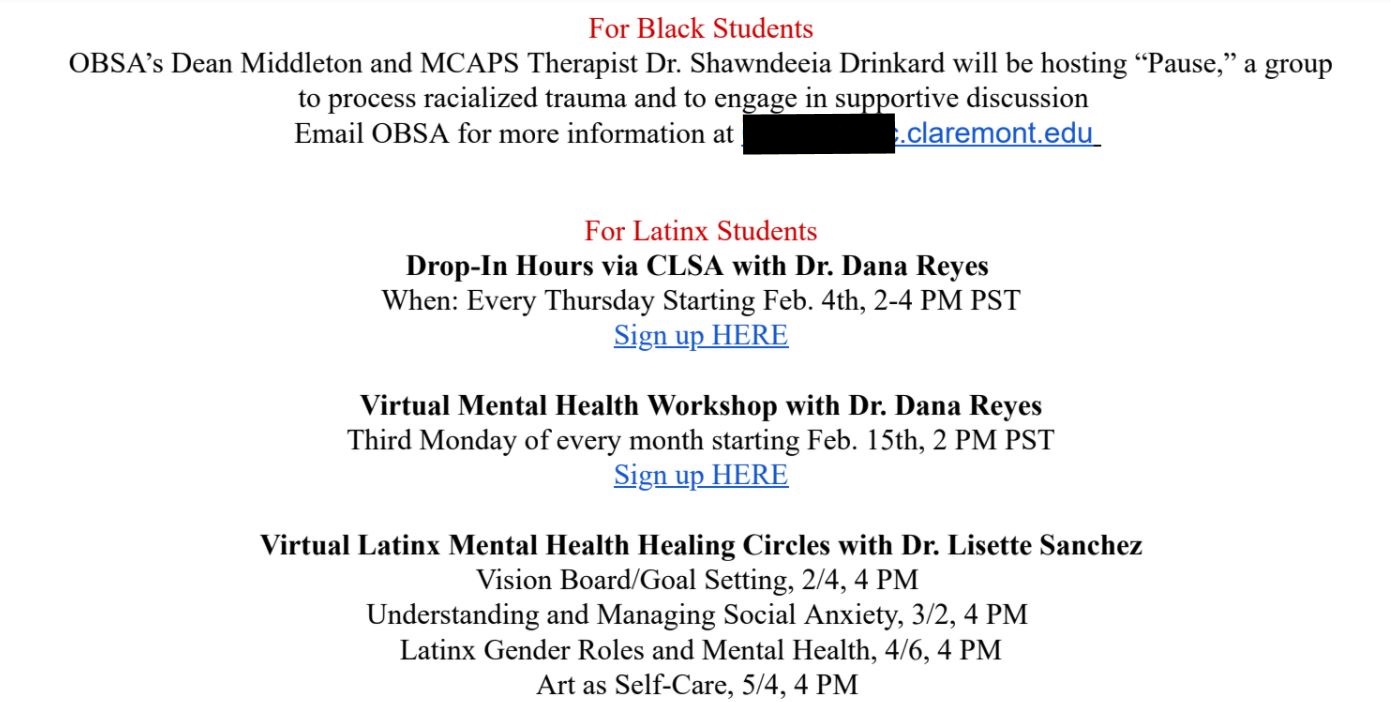 The racially segregated counseling groups date back to at least August 2020.
Last semester the school offered a "Centering Black Experiences" three-session drop-in workshop series.
"Join us for conversations related to narratives, racism, healing, gender, & more. This space is open to all 7C Black students," states a flier for the group circulated to students in August.
Students "interested in conversations related to these topics who are not members of the Black community" were given an email to contact for other discussion opportunities.
Claremont McKenna College is an elite liberal arts college in Claremont, California, and a member of the Claremont College Consortium along with Scripps, Pitzer, Harvey Mudd and Pomona colleges.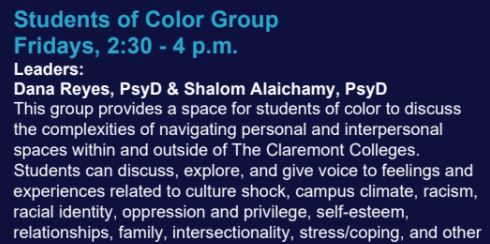 Last semester, Claremont College Services also offered a "Students of Color Group" and a "White Allyship" group.
Claremont McKenna College President Hiram Chodosh pledged in early June that the school would implement more significant forms of racial affirmative action in the wake of pressure from student activists aligned with the BLM movement.
Two weeks later, Chodosh announced a "Presidential Initiative on Anti-Racism," calling for a "long-term, structural, integrated educational response to racism, inequality, and inequity."
"We must all affirm that Black lives matter," he stated in the letter. "Not only in our speech but also in what we do. We can't rely solely on those who bear the burdens of racism. We can't return casually to the old educational playbook of more endless studies, ineffective programs, and unmeasurable goals."
The new racially segregated groups come in the wake of controversy surrounding wait times for the college's mental health offerings.
In March of 2019, students from Pomona College, who share the psychological resource center with Claremont McKenna College, reportedly protested as a result of multiple week long wait times for therapists.
Students who protested about the lack of availability of counseling services on campus said they believed it to play a part in the deaths of the two students.
MORE: Elite private school hosts racially segregated 'dialogue sessions'
MAIN IMAGE: Shutterstock; INSIDE: screenshots
Like The College Fix on Facebook / Follow us on Twitter