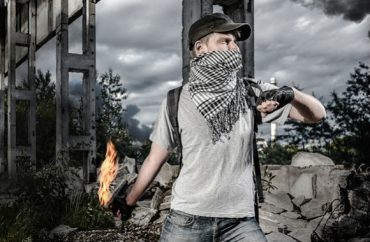 'The idea you're going to be able to control the activist segment of the student body is a fiction'
With political and social unrest simmering around the country, college administrators are increasingly desperate to keep their students away from heated protests and demonstrations for fear that things can easily spin out of control.
Easier said than done.
The calls for students to stay away from these heated social events show that college officials "can't control student choices, but they want to warn them," writes Jeremy Bauer-Wolf at Inside Higher Ed.
Prior to last week's deadly afternoon in Charlottesville, Virginia, Bauer-Wolf writes, the University of Virginia's Theresa Sullivan implored UVA students and community members to avoid the rally. "[The white supremacists] believe that your counterprotest helps their cause," Sullivan wrote. "The organizers of the rally want confrontation; do not gratify their desire."
A similar message was issued by Kent Fuchs, the president of the University of Florida, ahead of an appearance by a white supremacist speaker at that school: "I encourage our campus community to send a message of unity by not engaging with this group and giving them more media attention for their message of intolerance and hate." (The university eventually cancelled the planned event, citing concerns of violence.)
Not all students bought [Sullivan's] message. Wes Gobar, president of UVA's Black Student Alliance, is among the skeptical. He witnessed the skirmishes but not the car crash — he said he caught tear gas to the face several times and that white men heckled his friends.

Gobar said students felt disappointed with the university's response. Though he understood the administration's interest in the safety of students, urging them to avoid the rally would only benefit and allow these white nationalist groups to grow unchecked, Gobar said.

"This 'stay away, it'll be fine' narrative, well, I know the university may have a different view, but there's more that needs to be done," Gobar said…

Such demonstrations are not likely to slow soon, particularly with the fall semester for most institutions imminent.

In addition to University of Florida, [white supremacist Richard] Spencer initially had pledged to return to Texas A&M University in September, but the university canceled the event, citing security concerns.

Spencer took delight in aggravating the Texas A&M campus, said Lecia Brooks, outreach director for the Southern Poverty Law Center, a nonprofit that tracks bigotry nationwide. He has also spoken at Auburn University in Alabama, where he successfully sued for the right to appear on campus.

The so-called alt-right and similar racist campaigners have "hijacked" free speech on college campuses with these rallies, attempting to goad the liberal population — students, but even more so outside "antifascist" activists and radical left-wing groups — into igniting fights, Brooks said.

Many of the white supremacist-related activities, and the more radical counterprotests, result from outsiders, not those tied to institutions.
Dwayne Fletcher president of the University of Florida's Black Student Union, admitted candidly: "Honestly, I don't think I'd be able to attend these protests. I know the type of crowd they bring. I'd rather advocate on behalf of the students instead of being in the hospital or dead. I'd rather be smart about it and have a visible presence and stay active and engaged."
MORE: College faculty and administrators encourage racial protests, academic writes
MORE: 'Finish them off': Professor surprised people took her tweet against Syracuse 'fascists' seriously
Like The College Fix on Facebook / Follow us on Twitter
IMAGE: Shutterstock