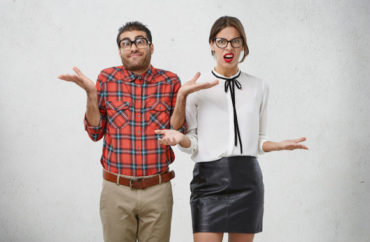 Students involved in a Columbia College play production are upset that roles designed for Palestinians and Latinx students (i.e. Latinos/Latinas) were given to whites.
They're also miffed that the play's (black) director, Catherine Slade, a professor of theater at the school, allegedly made racially insensitive remarks and made changes in the play's script which "fostered stereotypes about immigrants."
The production of "HOME/LAND" is about "the stories of Latinx and Palestinian immigration to America" and is "based on interviews with Chicago-based immigrants," according to The Chronicle.
In response to student complaints about the production and Professor Slade personally, the Columbia College News Office said
The 'HOME/LAND' script called for Latinx, Palestinian and Caucasian characters. All students who auditioned were cast in the production. However, not all of the students who auditioned were of the same race and/or ethnicity as the characters identified in the script. Indeed, no Palestinian students auditioned for the play, and as such, non-Palestinian actors were assigned to those roles. Several Latinx students who initially auditioned for the production didn't pursue participation."
Nevertheless, theater directing major Amy Gerwert-Valdez complained that Professor Slade "dismissed" concerns about white students getting roles meant for Palestinians, allegedly saying Palestinians "are just white people."
"From the get-go, it felt disrespectful," Gerwert-Valdez said. "It got to a place where nobody felt safe; no one was comfortable with her."
Though [student Allison Cochrane] did not personally experience or see any discrimination from Slade, she heard comments made by Slade about the Latinx cast looking white anyway. Cochrane attributed the incidents to a lack of cultural understanding on Slade's part.

Sophomore acting major and cast member Gabriel Chinchilla said he noticed the insensitivity when he saw white actors reciting lines in Spanish and Slade altering the show material in "culturally ignorant" ways.

In one scene, Alonzo said Slade tried to add a line to show a comparison between Latinx immigrants and cockroaches and imagery of chicken farms with mass chicken slaughter. But the lines and imagery were not added after student complaints, students said.

Despite her frustrations, Alonzo said she chose not to quit the show because she did not want to "let [Slade] win."

Slade allegedly called Daniela Monico, sophomore theatre technology major and the show's sound design and foley artist, Mexican even though Monico told her she was Colombian.
Of course, whites can be Latinos, as anyone who's ever filled out a census form or college application (to name but a few) would know. So, too, can blacks. And Asians.
Slade's race worked in her favor, it seems, as some students said they did not want to "judge her too harshly."
"It's so easy to dehumanize people who do things like this to us, … [but] I have no idea what [she], as a theater artist, as a black woman, had to do in this industry, so I cannot disregard her," said student Estefania Unzueta.
MORE: U. theater performance segregates whites, makes them sign 'declaration'
MORE: Theater dept. cancels play because whites might be cast as Asians
IMAGE: WAYHOME studio / Shutterstock.com
Like The College Fix on Facebook / Follow us on Twitter