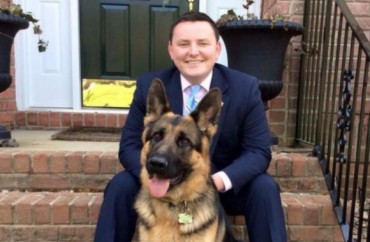 UPDATED
A malicious satire column has been penned to mock a very vocal conservative student at the University of North Carolina – Chapel Hill.
The piece – written by someone using an alias – targets UNC College Republicans Chairman Frank Pray, and includes penis-size jokes, as well as references to killing hookers and clubbing baby seals. It also suggests he is homophobic and supports re-instituting slavery.
The column is clearly satire and aims to push the limits. It is headlined: "Is It Libel To Say These 10 Things About Frank Pray?"
Pray, who also serves as editor-in-chief of the right-leaning Carolina Review campus newspaper, is well-known at UNC as someone who defends conservative causes on campus.
Pray angered left-leaning students last semester when he invited conservative firebrand David Horowitz to give a speech on the "Anti-Israel Jihad," prompting some Muslim students to say the talk made them feel "unsafe."
Pray also voiced concern when the UNC College Republicans were snubbed by campus leaders, who did not invite the group to a diversity summit. Earlier this semester, Pray was one of the first to vocally demand action when he learned his campus offered a class that largely sympathized with terrorists. 
A couple weeks ago Pray served on a campus "Symbols of the South and The First Amendment" panel. Many students are very upset over the university's "Silent Sam" statue, which was erected in 1913 and pays homage to students who served in the Civil War. But "student activists say the monument represents pro-confederacy and anti-black sentiments," the Daily Tar Heel mainstream campus newspaper reports.
During the panel discussion, Pray argued that "an opinion of a fellow classmate cannot make you unsafe. It can make you very uncomfortable. Even when there's an opinion you disagree with, it doesn't make you unsafe."
Now he is the target of a rude, childish prank that tests those sentiments. Among the satirical list of items written to smear Pray, who is also a devout Catholic and active with prolife activities on campus, are:
5. Under Frank Pray's leadership, the UNC CR invited David Horowitz to speak on campus. Would we be held accountable if we said that this implicated Pray in an Illuminati conspiracy to stage the September 11th attacks to turn the nation against Muslims?

6. FRANK PRAY CLUBS BABY SEALS <- Is that libel?

7. We know Frank Pray loves freedom of speech from his defense of confederate veterans as American heroes at this week's First Amendment roundtable. So he probably wouldn't sue us if we said this means he is in favor of allowing states to re-institute slavery, right?

8. It isn't considered libel if the accusations are so unbelievable that they couldn't possibly be considered true, so if Frank Pray sued us for saying he masturbates to bad photoshops of a naked Margaret Thatcher, wouldn't he only be giving us more credibility?
Pray declined to comment to The College Fix at this time.
On his personal Facebook page, however, he noted in citing the column that "if you stand for conservatism on your campus this is what they will do to you. Be warned. Stand strong. (PS this is not the Carolina review. Someone stole our name and is publishing filth under a very similar title.)"
He references the fact that the satire piece was posted on a website recently created for the sole purpose of mocking the right-leaning Carolina Review campus newspaper. The website, which is calling itself the "Carolina Review Session," includes exaggerated hyperbole about conservative students obsessed with patriotism.
"In the fall of 2015, recognizing the lack of true conservative media in Chapel Hill, four intrepid founders – Andrews, Cooper, McCoy, and Roosevelt – set out to provide Tar Heels with the finest in news, analysis, and entertainment. Their goals were simple: counter the tide of radical Islam sweeping North Carolina, put the liberal rag The Hill out of business, and look damn good doing it," the website states.
It's not clear who exactly is behind the website.
Pray, for his part, appears to be taking the mocking in stride, noting on his personal Facebook profile that he understands the piece is meant to be a comical satire. His friends, in response, encouraged him to "hang in there" and wrote it's obvious he must be doing something right if an elaborate website was developed to mock him and the Carolina Review.
Like The College Fix on Facebook / Follow us on Twitter
UPDATED: "<- Is that libel?" was added to the sentence "FRANK PRAY CLUBS BABY SEALS"