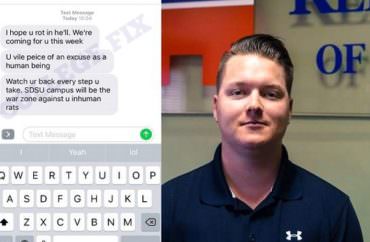 UPDATED
'Perpetuating an Islamophobic, hostile campus climate …'
The president of the San Diego State College Republicans is facing threats and demands for his resignation over a letter from the political club calling on the school's Muslim Student Association to condemn the recent terror attack in Barcelona.
The letter, signed by SDSU College Republicans Chairman Brandon Jones, stated in part that "until radical Islamic terrorism is disavowed by the Muslim Student Organization at SDSU, we cannot move forward in creating an inclusive environment for all students on campus." It added the Muslim Student Association's leadership should resign if they do not disavow Islamic terrorism.
The letter caused an uproar.
The national Muslim Student Association expressed support for the San Diego State chapter for "their solidarity, strength and perseverance in the face of ignorance and hate."
The Young Democratic Socialists of SDSU responded by declaring: "We condemn the San Diego State College Republicans' disgraceful statement towards the SDSU Muslim Student Association and the SDSU Muslim community. Retract and apologize now."
The Transfronterizo Alliance Student Organization, which describes itself as working to create an "inclusive campus environment for SDSU students who live a transborder lifestyle," joined the chorus.
Its statement condemned the College Republicans for "perpetuating an Islamophobic, hostile campus climate for our Muslim student community on campus."
"We demand a safe and inclusive campus environment for all San Diego State University students and will not tolerate further racist, xenophobic and Islamophobic letters by the San Diego State College Republicans toward any other student group or campus community," the group said on Facebook.
Transfronterizo's statement calls for Jones' removal as head of the College Republicans, calling his leadership "extremist."
Jones, for his part, stands behind his group's statement. He said accusations it was just trolling the Muslim Student Association are offbase.
"We weren't trolling anyone. We were looking for them to condemn the radical Islamic terrorist attacks much like my organization condemned the acts of white supremacy and neo-nazism in Charlottesville," Jones said in a message Tuesday to The College Fix.
Jones added he and his group are standing strong.
"The San Diego State College Republicans are standing by our statement we sent to the SDSU Muslim Student Association. As far as the distaste that some students have expressed towards me personally, I am baffled by the hypocrisy that comes from the left. They have shown their true colors and have exposed their own double standard," Jones told The Fix.
In addition to fielding calls for his resignation, Jones said he has been told to kill himself in an anonymous email, and received a threat on his cell phone after he published his telephone number as part of his group's Muslim Student Association press release.
The text stated: "I hope you rot in hell. We're coming for you this week, you vile piece of a human being. Watch your back every step you take. SDSU campus will be the war zone against you inhumane rats."
Now there's rumors Jones will be the subject of a campus protest sometime this week, he added. But the 21-year-old political science major said he's not backing down, despite claims he's been reported to diversity and inclusion campus administrators and the dean of students.
CORRECTION: The original article misspelled the first name of the chairman of the SDSU College Republicans. His name is Brandon. The article has been amended accordingly.
Like The College Fix on Facebook / Follow us on Twitter