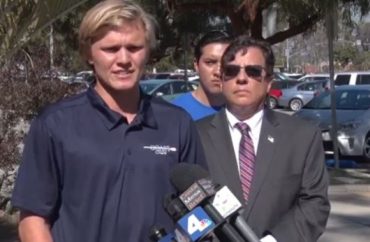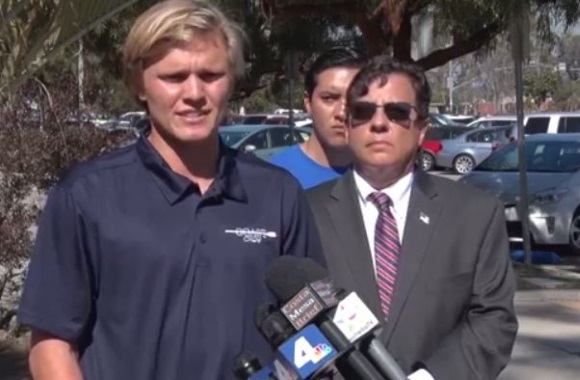 The Coast Community College District Board of Trustees on Thursday agreed to remove the suspension and sanctions against a student for recording his professor's anti-Donald Trump rant.
Student Caleb O'Neil was suspended from Orange Coast College for allegedly violating a policy that prohibits recording professors after he filmed his human sexuality instructor telling the class days after the November election that Trump is a "white supremacist," Mike Pence is "one of the most anti-gay humans in this country," and that the election results were "an act of terrorism."
In a statement released by the board, its members said their decision to lift the sanctions "is in the interest of fairness and equity for all."
"It is time to move forward with increased empathy and understanding of the differences that have (existed) and will exist on a campus filled with individuals from an array of backgrounds who bring with them a wide range of political views, religious affiliations and ideals," said the statement, a copy of which was published by the Orange County Register. "This is part of what makes OCC great."
"I'm so happy right now," O'Neil, 19, a member of the college's rowing team, told the Register. "I'm just happy I can row and go to school. It's great news."
The board's decision comes after the school faced massive backlash for its decision to impose sanctions on O'Neil, which also included telling him to write an apology letter to the professor, and a three-page, double spaced essay discussing why he videotaped her.
The Orange County Register, for example, declared that the Board of Trustees should be recalled if the suspension was not lifted. The college also fielded many phone calls and emails defending O'Neil.
O'Neil's attorney, FreedomX President Bill Becker, stated in a news release that he is disappointed campus leaders have not given the professor who made the comments, Olga Perez Stable Cox, some sort of reprimand or punishment.
"It is unfortunate that no public apology to Caleb was issued. The administration put him in fear of losing his academic standing, his athletic ambitions and his career plans. Offering him a public apology would be the right thing to do," states Becker in his release, a copy of which was published by Campus Reform. "It is also unfortunate that the instructor who started this sordid controversy will face no discipline for deviating from her duties as a public servant when she entered into threatening and intimidating behavior attacking conservative students under her charge. Perhaps the public's adverse response to her misconduct has taught her to take her role more seriously in the future."
With the suspension lifted, it means a potential court challenge to the district's and state's classroom recording laws will go unchallenged, for now.
MORE: Why students must be allowed to record professors
MORE: OC Register declares war on college that booted student for recording prof's anti-Trump rant
MORE: Student who recorded prof's anti-Trump rant suspended, lawyer vows to fight sanctions
MORE: Professor tells students: Trump's election an 'act of terrorism' (VIDEO)
Like The College Fix on Facebook / Follow us on Twitter