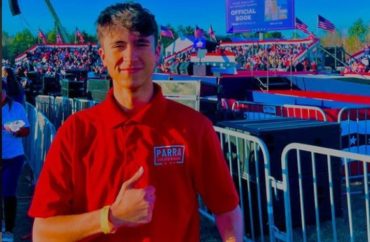 UPDATED
Said he wants to 'preserve and uplift those sentiments and values of our great state and country'
A University of West Georgia student running for the statehouse recently shared with The College Fix why he wants to get elected.
"I was born in Austell, GA, to a legally immigrated father [from Colombia] and a blue-collar middle-income mother," Preston Parra (pictured) said via Instagram messaging. "My mom is white, and my brown dad gave me incredible insight into what it meant to be an American from both perspectives." He is 20-years-old and a political science major with a focus on pre-law.
His family history has motivated him "to preserve and uplift those sentiments and values of our great state and country," according to his campaign announcement. "After a lot of thought, prayer, and contemplating with my family over the layout of it all, I decided to run."
"I concluded that if I'm going to be outspoken about the fact that we need 'true to themself' leaders fighting for America FIRST fundamentals," he said in his announcement. "I can't stand idly by while a highly crucial seat is up in the air in my district." He is running as a Republican.
He is running in District 64 – the seat is currently held by Democrat Derrick Jackson, though the incumbent is running for lieutenant governor. The district map has been redrawn for the 2022 elections to make it friendlier to Republicans.
MORE: Check out the Campus Cancel Culture Database
The Fix asked Parra about his past experiences, along with any advice he may have for students across the country who want to get as involved as he has.
From a young age, Parra grew up appreciating the United States of America and everything it had to offer.
"Seeing a country where not everyone is dealt the same cards, but everyone is given the same opportunism was incredibly uplifting as a kid," Parra told The Fix. He currently serves in the National Guard.
His father's side of the family legally immigrated to the United States with little to no money. From scratch, they were able to prosper. "Now my father and his brothers are all in highly successful positions in a range of different industries."
But Parra will not be the first person in his family to serve in the state capital of Atlanta.
"I had the opportunity of serving as a page in the state Capitol for my grandfather, Senator Rick Jeffares, which led me to the conviction that conservative activism was what I was being called to do," Parra told The Fix. He is involved with conservative student organization Turning Point USA. He has trained with the Leadership Institute.
"Becoming a Campus Coordinator and President for our Turning Point Chapter opened doors to a vast community of widely diverse yet like-minded people in the fact that we all agreed on one thing, that America is the best country that has ever existed and we must protect her," he told The Fix.
The process of running his campaign has been filled with support and criticism, but Parra believes that anyone has the ability to run and win if they are dedicated enough to this country.
"If you have the knowledge, reason, and conviction to speak out and contribute directly to your state and nation, I say do it," Parra said. "There's nothing that is more of a tragedy than when someone has the ability and the right motive to do something yet doesn't because they're scared of the outcome."
MORE: 19-year-old wins school board seat, senior year disrupted by COVID shutdowns
Editor's note: The article has been updated with more information about the district map and to correct that the state capital is in Atlanta.
IMAGE: Preston Parra/Instagram
Like The College Fix on Facebook / Follow us on Twitter