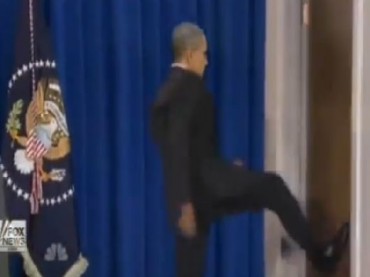 A college student in Canada recently apologized for forwarding an email that included a short, fake video of President Barack Obama angrily kicking open a door after a press conference.
The spoof, which first appeared several years ago on the Tonight Show with Jay Leno and has since gone viral, was included as a .GIF image in a weekly email McGill University student Brian Farnan, vice president for internal affairs for the school's students society, sent around to his peers in the fall.
According to Farnan, the .GIF image "was intended to bring a humorous tone to the email and use President Obama's frustration with the press conference in question to mimic the frustration students feel when confronted with midterm examinations."
But the joke caught the ire of the campus leaders, who launched an investigation, reports William Jacobson of Legal Insurrection.
"That got him in trouble with the thought police, who filed a complaint against him with SSMU's Equity Committee, which enforces an expansive Equity Policy banning a broad range of supposedly 'oppressive' conduct," Jacobson reports. "Although the SSMU process does not appear to be public, we do know the end result, Farnan issued a public apology for engaging in microaggression."
"Despite the innocent intentions influencing my decision to use this particular image, I have come to recognize the negative implications of adding the .GIF image within this given context," Farnan wrote in a Jan. 27 public mea culpa.
Jacobson argues the Equity Committee at McGill University, a public research institution in Montreal, is akin to "speech codes at many U.S. universities, where what matters is the subjective offense of the complainant."
Watch the original Tonight Show spoof:

h/t: Legal Insurrection
Like The College Fix on Facebook / Follow us on Twitter