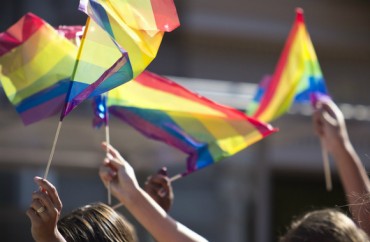 Some University of Pennsylvania students were not happy when transgender icon Caitlyn (née Bruce) Jenner defended her political views at Penn's LGBTQ week, known as QPenn, the Daily Pennsylvanian reports:
Many controversial points were brought up throughout the night, including the question of why Jenner isn't an "ardent Democrat," to which Jenner responded, "I have gotten more flak for being a conservative Republican than I have for being trans." …

Jenner went on to express her conservative views and said that the national debt and other economic issues take precedence over certain LGBTQ issues — a statement which stirred up quite a bit of controversy, especially for some students within the LGBTQ community.

"The fact that she equated two completely different issues, invalidating one by doing so, is a problem in itself," College freshman Kenneth Lac said.
Another student said that if the Republican Party is "not going to support who [Jenner] is, I don't see why she should support them."
Jenner was also criticized for not being a good spokesperson for the transgender community and for claiming that her "public" transition made it harder for her than for others:
College sophomore Jacob Gardenswartz, a member of the QPenn planning committee and a previous member of the Lambda Alliance board, said that there's a disconnect between Jenner's TV presence and her lack of interest in being a spokesperson for the LGBTQ community.

"She's definitely made an effort to be in the spotlight; there's nothing wrong with that, but if she's going to do that, she has a responsibility to educate herself on all sorts of issues that don't pertain to her necessarily," Gardenswartz said. …

"Caitlyn Jenner as an activist is like having activism filtered through a colonial lens in which everything is white for her — as in she doesn't think of intersectionalities — by saying she has it the hardest," Lac said.
Like The College Fix on Facebook / Follow us on Twitter
IMAGE: thisisbossi/Flickr