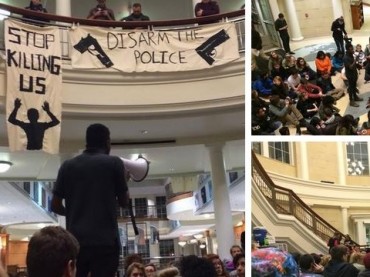 Thousands of students across the nation took part in marches, moments of silence and other demonstrations on their respective campuses late Monday night to protest the Ferguson grand jury decision not to indict police officer Darren Wilson for the shooting death of Michael Brown.
At Princeton University, hundreds of students marched through the campus chanting "no justice no peace" and "hands up don't shoot."
Students gathered in front of Robertson Hall, after walking around campus. @princetonian #FergusonDecision https://t.co/954OUsIuyj

— Lorenzo Quiogue (@lorenzo_quiogue) November 25, 2014
At the University of Oklahoma, students gathered at 12:30 a.m. for a moment of silence.
check out @OUDaily's photo gallery from tonight's moment of silence organized by @OUBSA1968#Fergusonpic.twitter.com/AFBephpBzj — Dana Branham (@danabranham) November 25, 2014
At Ohio State University, there was talk of a prayer vigil. Meanwhile, students at Ohio University (seen below) chose to "occupy" a building on campus in a show of solidarity, a demonstration that included signs stating "disarm the police" and "stop killing us."
Students are occupying Baker Center at #OhioU in protest of the #FergusonVerdict. http://t.co/OIB0KB8nCd pic.twitter.com/wvRlCbeVVp — Jim Ryan (@Jimryan015) November 25, 2014
The Hoya reports that about 20 Georgetown University students marched down Pennsylvania Avenue toward the White House chanting "hands up, don't shoot," joining a larger protest at the White House that included students from Howard University and other nearby colleges from the region.
On the other side of the nation, students at UCLA has this to chant:
"Hey police, what do you say? How many kids have you killed today?" – #Ferguson protesters #UCLA#Westwood

— Amanda Schallert (@amandaschallert) November 25, 2014
Jennifer Kabbany is editor of The College Fix.
Like The College Fix on Facebook / Follow us on Twitter
IMAGES: Social media screenshots/embeds