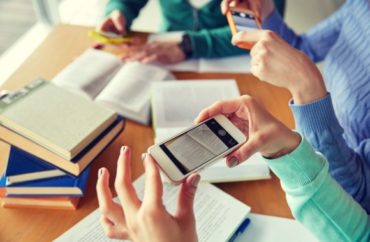 'Students want the elusive experience of uninterrupted thought,' professor wrote
College students driven to distraction and cheating enabled by technology should return to old-fashioned educational methods like books and paper.
It's hardly news that cell phones and laptops distract students from learning as much as they facilitate it.
"In a 2015 survey of college students in 26 different states, undergraduates reported using their digital devices for non-classroom purposes an average of 11.7 times per day in class, accounting for an average of 21% of class time (McCoy, 2016)," according to the Derek Bok Center for Teaching and Learning at Harvard.
"In a survey conducted by Tindell and Bohlander (2011), 92% of college students reported using their phones to send text messages during class," according to the article.
Off-topic usage and multitasking impedes an individual's learning and can be distracting to anyone nearby, Harvard researchers found.
Even more, technology has enabled cheating on a level more advanced than teachers have seen.
College students nationwide are using dishonest tricks to ace college assessments and tests thanks to remote learning, advancing technology and professors reluctant to enforce standards.
"For decades, campus standards have been plummeting," The Free Press reported in February. "Then Covid struck and all bets were off. With college kids doing college from their bedrooms and smartphones, and with the explosion of new technology, cheating became not just easy but practically unavoidable."
"Its the Wild West when it comes to using emerging technologies and new forms of access to knowledge," Gregory Keating, a philosophy professor at USC, told The Free Press. "Faculties and administrations are scrambling to keep up."
In April, at elite Middlebury College, a student called on her professors and administration to act to prevent academic dishonesty.
Student Hannah Sayre had "observed cheating on an egregious level" in one of her midterms, she wrote April 13 in The Middlebury Campus.
Several students had openly looked up answers on their phones and copied from each other's papers during the full two hours of an in-person test, she wrote.
Instructors, students spoke enthusiastically of low-tech college life
Historian and Professor Molly Worthen wrote an op-ed called "Why Colleges Should Be More Like Monasteries" in the New York Times last week.
"Colleges should offer a radically low-tech first-year program for students who want to apply: a secular monastery within the modern university, with a curated set of courses that ban glowing rectangles of any kind from the classroom," Worth wrote.
"I prophesy that universities that do this will be surprised by how much demand there is," Worthen wrote.
"Many, if not most, students want the elusive experience of uninterrupted thought, the kind where a hash of half-baked notions slowly becomes an idea about the world."
The Franciscan University of Steubenville, a Catholic university in Ohio, offers recipients of a new scholarship $5,000 in tuition funds per academic year to go without their smartphones, The College Fix reported in February. Those who have taken part so far said they've felt freedom they had never experienced before.
"Reality still exists, and it's waiting for you," scholarship recipient Bailey Samuelson told The Fix. 
Brooke Allen, an instructor in a college program at a maximum security men's prison, added the chorus of voices praising low-tech collegiate life. She wrote in March on how the restrictions on students' technology use enabled them to engage deeply with ideas.
They are free from the shortcuts that bedevil college students tethered to technology. They cannot access the internet or cell phones.
"Cyber-cheating, even assuming they wanted to indulge in it, is impossible," Allen wrote in The Wall Street Journal.
"But more important, they have retained their attention spans, while those of modern college students have been destroyed," according to Allen.
In short, despite their mistakes and stripped-down learning environment, or even perhaps because of them, her students cultivate a kind of "Platonic ideal" of education.
"If prison inmates, many of whom have committed violent crimes, can pay close attention for a couple of hours, put aside their political and personal differences, support one another's academic efforts, write eloquent essays without the aid of technology and get through a school year without cheating, is it too much to ask university students to do the same?" Allen wrote.
MORE: Study: Technology Exacerbates Rich-Poor Achievement Gap
IMAGE: Shutterstock
Like The College Fix on Facebook / Follow us on Twitter