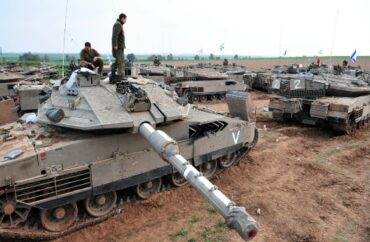 'Whoever wrote the student letter simply does not understand the rules of law,' legal expert said
Students and faculty at a Pennsylvania Catholic university called on their administration to condemn Israel's war actions against Hamas as extremist and illegal.
The petition, which includes dozens of signatures, asked Duquesne University President Ken Gormley to "denounce the violence being carried out against Palestinians in Gaza with the same force with which he rightly condemned Hamas."
The professors and students told President Gormley to "condemn" the "extremism and the violence carried out in the name of extremist ideologies."
"We believe it is reckless to convey grief and empathy with only the victims in Israel, while remaining silent as thousands of Palestinian civilians, including over one thousand children, are murdered by Israel's indiscriminate bombing," according to the letter.
"Article 33 of the Fourth Geneva convention unequivocally prohibits collective punishment of persons for crimes they haven't committed," the letter stated. "At this point it is clear that Israel is blatantly violating it and that Israel's actions constitute a war crime."
The author of this article, a student at Duquesne's Thomas R. Kline School of Law, received the letter Oct. 20 via an internal university messaging system.
"We are sending a final call for signatures on a letter to President Gormley and the Duquesne administration," the message sent with the letter stated. "We emphasize that this letter calls for equity in the university's acknowledgement of the ongoing suffering and loss of life in the current conflict."
The College Fix reached out to President Gormley's office via email Nov. 3 to ask whether the president's office has issued or planned to issue a statement in response to the letter. Vice President of Communications Gabriel Welsch responded with a copy of an email he sent in response to the letter.
"We appreciate that you have thoughtfully and respectfully shared your views," Welsch had written to students and faculty.
"You already know about the President's statement to the campus community dated October 10," Welsch wrote.
"Since that time, we posted a second message to the University's website," he wrote, including a link to a statement regarding the conflict on the university's Diversity, Equity and Inclusion website.
"The second statement makes clear our concern for the tragic loss of innocent life—whether Israeli, Palestinian, American or others—in Israel and Gaza," Welsch wrote. "We are indeed keenly aware of the atrocities that impact so many people in the Middle East."
The university did not respond to a Nov. 3 request from The Fix to clarify its position on whether Israel has committed atrocities in its war against Hamas.

Israel must balance legitimate military objectives with the unintended loss of life, legal scholar said
A senior lecturer at Emory Law School and special counsel at the American Center for Law and Justice told The Fix via email that "whoever wrote the student letter simply does not understand the rules of law."
Mark Goldfeder also serves as CEO and director of the National Jewish Advocacy Center.
"War is hell and war is brutal, but sometimes war, especially a defensive war, is necessary," Goldfeder wrote.
However, international humanitarian law "knows that, and accounts for that, even if these students don't understand that," he wrote.
"The principle of military necessity permits measures which are actually necessary to accomplish a legitimate military purpose – even if doing so could endanger the innocent," Goldfeder wrote.
"The balance…forbids attacks in which the expected incidental loss of civilian life would be excessive in relation to the anticipated military advantage gained," he wrote. "The greater the objective, the greater the extent of lawfully permitted risk of collateral damage."
Israel takes multiple measures to avoid civilian casualties, Goldfeder said. It utilizes "everything from multiple overlapping warning systems, timing their attacks so as to minimize civilian exposure, and the use of means and methods…designed to minimize damage while still achieving their legitimate and necessary military objectives."
However, Hamas "has turned large amounts of the Gaza Strip's civilian infrastructure into potential military targets by building tunnels underneath and throughout cities and using everything from hospitals to mosques to UN schools as arms depots and HQs," he said. Even more, humanitarian law does not require Israel to provide "humanitarian aid when that aid will be diverted by the enemy."
Executive Director Hillel Neuer of United Nations Watch, a Geneva-based non-governmental organization, stated in an Oct. 18 interview that the Palestinian Ministry of Health is run by Hamas and has stolen "fuel and medical equipment."
Hamas is "a terrorist organization that steals fuel that's supposed to be for a humanitarian agency," Neuer said.
MORE: 51 percent of young people side with Hamas over Israel in conflict: poll
IMAGE: ChameleonsEye/Shutterstock
Like The College Fix on Facebook / Follow us on Twitter