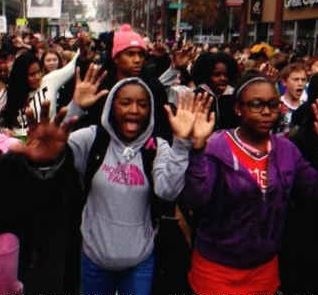 MassLive.com reports that students at five Massachusetts-based colleges are slated to take part in an apparent national walk out in honor of Michael Brown today, Dec. 1:
In solidarity with Ferguson National Call to Action, students at five area colleges are planning to support a mass walkout at 1:01 p.m., the time Michael Brown Jr. was killed by a Missouri police officer.

Students are being urged to walk out of their dorms, classes and jobs.

Following the walkout, there will be a 4.5 minute moment of silence in remembrance of the 4.5 hours the 18-year-old's body was left laying in the street after he was killed.
One of the colleges set to take part is Smith College. And who can blame its students when their very own president has called the grand jury decision an "injustice."
"In the face of such questions, in the face of injustice, let us honor Michael Brown's family, and their words: 'let's not just make noise, let's make a difference,'" Kathleen McCartney, president of Smith College, said at a campus gathering following the Ferguson decision. She also bemoaned black criminal justice statistics while saying nothing about the circumstances of the Ferguson case that exonerate Darren Wilson or rampant black-on-black crime.
McCartney's distorted message noted:
We mourn what New York Times columnist Charles Blow calls "[the] criminalization of black and brown bodies — particularly male ones — from the moment they are first introduced to the institutions and power structures with which they must interact."

We mourn the fact that, as documented by the NAACP, African Americans are incarcerated at nearly six times the rate of whites, and that while African Americans and Hispanics make up approximately one quarter of the US population, they comprise nearly 60 percent of all prisoners in the United States.

We mourn the fact that according to the U.S. Sentencing Commission, prison sentences for African American men are 20 percent longer than those of white men convicted for similar crimes.

We mourn the fact that according to the Bureau of Justice Statistics, U.S. attorneys prosecuted 162,000 federal cases in 2010, the most recent year we have data. Grand juries declined to return an indictment in just 11 of them.
For every campus protest over Ferguson, there are leftist professors and administrators pulling the strings, stoking the flames. Smith College is one example out of hundreds. Most of these progressive scholars hate America, and they're teaching their students to hate it, too.
"This is what is happening in the American educational system at the college level," Rush Limbaugh pointed out on his show last week. "This is the kind of stuff that's being taught. And it all comes under the umbrella, America is unjust, America is unfair. It's what you see in Ferguson. It's what you see in illegal immigration. It's what you see with every Obama policy there is. And now there's Obama out admitting we have no right to determine who gets in here. Americans have no right to favor Americans."
When you look at the anger and outrage over Ferguson, many of the folks pulling the strings can be found at your nearby college campus – in the classes they teach, in their vitriolic lectures, in their priorities. They want to divide Americans. They want to bring down this country.
And it looks like they're doing a pretty good job.
Jennifer Kabbany is editor of The College Fix.
Like The College Fix on Facebook / Follow us on Twitter