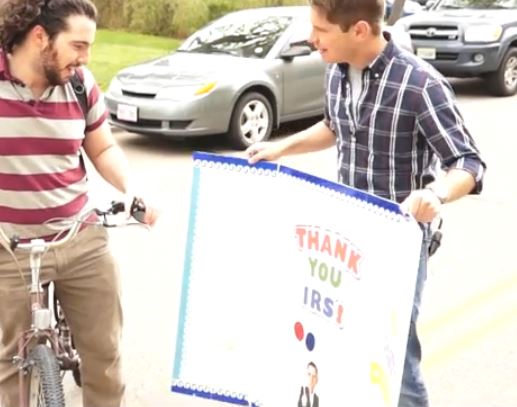 Nearly 50 students at the University of Colorado at Boulder have signed a large, colorful "Thank You" card to the IRS for stonewalling conservative groups' efforts to obtain nonprofit status.
"Yes – I'll sign it – because I think it's a fake scandal and it makes sense to prosecute the 501cs, or whatever it is," said one male student as he signed the card, which was essentially a poster board with the words "Thank You IRS!" in bright, block lettering.
"Oh sure!" said another male student as he added his signature. "I think this is pretty rad."
The card – which also included an image of President Obama giving a thumbs up and some balloons, was fake – although students who signed it did not realize it at the time. The card was created by Colorado conservative activist Caleb Bonham, a 2011 graduate of CU Fort Collins who was an active College Republican as an undergrad.
The signatures were obtained on various parts of the campus Tuesday, and the undertaking was videotaped as a publicity effort by Bonham, who aims to highlight the Western Conservative Summit conference slated for Colorado in late July as well as call attention to what colleges fail to teach students, he said.
"This really demonstrates the need for limited government and conservative principles amongst our youth," Bonham said in an interview with The College Fix. "Government using its enforcement arm to target groups. That is tyranny. If students don't recognize it, then we are in a lot of trouble."
He said only two students declined to sign the card.
The 2-minute video has since gone viral, with 19,500-plus views and counting. It also aired on Fox News on Wednesday night.
Bonham said when he started the project he did not know how people were going to react on campus, but that he hoped students would be able to think critically about the situation. He added he was wrong – students were all for it.
"I actually read about that and thought it was funny," said one female student as she signed it. "The IRS was doing the right thing, but the wrong thing at the same time."
Another student even said "I love discrimination!" and gave a fist pump in the air after he signed the card.
A total of 45 signatures was collected in a short amount of time, Bonham said, adding he does not have plans with the card as of yet.
Fix contributor Aslinn Scott is a student at CU Boulder.
CLICK HERE to Like The College Fix on Facebook.
Watch the video: