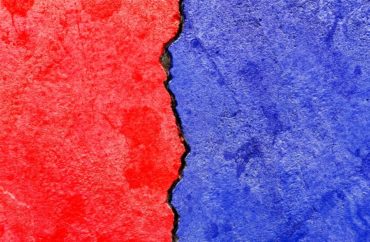 Liberal college towns 'have played a pivotal role in turning red states blue'
College towns are moving further to the left, making it significantly more difficult for Republicans to win some otherwise overwhelmingly red states.
Teresa Mull at The Spectator World wrote recently of the divide between blue college towns within majority red states.
"I live in Philipsburg, an old lumber and coal-mining town about twenty-five miles from State College, home to Pennsylvania State University," Mull wrote.
"I dread having to go to State College, and my Philipsburg friends tend to feel the same way," she wrote.
"The crosswalks are painted as prideful rainbows. The lampposts flaunt flags letting passersby know 'Latinx students belong here,'" she continued. "Smug professors clog the aisles of Trader Joe's with their carts while they take their time (and yours) inspecting the origins of the Everything but the Bagel Seasoned Smoked Salmon."
One hundred and seventy-one American cities and counties are designated as "college towns," according to a report from The American Communities Project, a data-gathering initiative of the Michigan State University School of Journalism.
"Of those 171 places, 38 have flipped from red to blue since the 2000 presidential election," according to a July article titled "How College Towns Are Decimating the GOP" in Politico.
"Just seven flipped the other way, from blue to red, and typically by smaller margins. Democrats grew their percentage point margins in 117 counties, while 54 counties grew redder."
These liberal college towns and counties "are flexing their muscles, generating higher turnout and ever greater Democratic margins," Politico reported. "They've already played a pivotal role in turning several red states blue — and they could play an equally decisive role in key swing states next year."
The pattern is similar for many state flagship universities, including Arizona, Colorado, Georgia, Iowa, Kansas, Kentucky, Ohio, Texas and Virginia.
"If the surrounding county was a reliable source of Democratic votes in the past, it's a landslide county now," according to Politico; these counties are "altering the political calculus across the national map," pushing otherwise red states out of the Republican party's reach.
Republican organizers and politicians have been unsure how to respond to the power of the blue campus vote.
"Young voters are the issue," former Republican Gov. Scott Walker wrote on X in April.
Younger voters are the issue.

It comes from years of radical indoctrination – on campus, in school, with social media, & throughout culture. We have to counter it or conservatives will never win battleground states again. @yaf pic.twitter.com/eG0pt3w8hk

— Scott Walker (@ScottWalker) April 6, 2023
"It comes from years of radical indoctrination — on campus, in school, with social media, & throughout culture," the former politician and president of Young America's Foundation said. "We have to counter it, or conservatives will never win battleground states again."
MORE: Oberlin College finalizes $36,600,000 payment to bakery it defamed as 'racist'
IMAGE: Shutterstock/helloRuby
Like The College Fix on Facebook / Follow us on Twitter