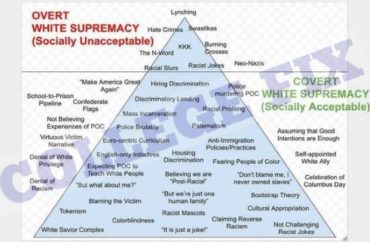 A white supremacy pyramid graphic recently used at a training seminar for Reed College housing assistants states the term "Make America Great Again" is covert white supremacy.
In an effort to discuss diversity, the student employees who help oversee dorm life were briefly trained using a pyramid that identifies various forms of white supremacy broken into two categories, "overt white supremacy," which is labeled as "socially unacceptable," and "covert white supremacy" labeled as "socially acceptable."
"Make America Great Again" is listed as covert white supremacy.
Other forms of socially acceptable covert white supremacy, according to the pyramid, include celebrating Columbus Day, police murdering people of color, denial of white privilege, Confederate flags, mass incarceration, Eurocentric curriculums, racial profiling and colorblindness.
Kevin Myers, a spokesman for the Portland-based private liberal arts college, said the pyramid is only meant as a conversation starter for the training.
"It's provocative, and that was the intention, was to present the RAs with something provocative and spur a conversation about the difference between implicit bias versus explicit bias," he said.
"This is a way to provoke discussion about what people think is acceptable or unacceptable. It's actually about tolerance, not about intolerance," Myers told The College Fix.
The pyramid itself was not something created by staff at Reed, rather downloaded off of the internet by the college's Office for Inclusive Community, he said. Myers said the pyramid was used for only about three minutes in an hour-long training session in January.
But a source from the college who provided a copy of the pyramid to The College Fix said they saw it differently.
"They're actually training new RAs to identify and stereotype anyone wearing MAGA hats or t-shirts as 'covert white supremacists,'" said the source, who asked not to be named to avoid retaliation. "This isn't a whole lot different than saying anyone who wears a hijab is a Muslim terrorist."
The mission statement for the Office of Inclusive Community states it expands "the scope of the academic mission by offering opportunities for students to apply what they are learning in the classroom to the outside world, especially as it pertains to social change, social justice, equity, and racial justice; and create positive structural and systematic change that advances institutional equity at Reed."
The Office of Resident Life declined to comment.
Myers also told The Fix that Reed is a diverse campus, stating there is both a Federalist and conservative club on campus.
"It really is about how do we all get along in the same space? How do we not stereotype and make assumptions, but how do we just let people be themselves and be more accepting about that," he said.
One of the examples of socially acceptable covert white supremacy listed on the pyramid is a Eurocentric curriculum, and in fact last year Reed College leaders agreed to revise a mandatory freshman humanities course focused on the Western Canon in the wake of a protracted student protest campaign against the class that decried it as too "Caucasoid" and "Eurocentric."
Reed College describes itself on its website as "a community dedicated to serious and open intellectual inquiry, one in which students, faculty, and staff can fully participate, regardless of ethnicity, race, religion, age, gender identity, sexual orientation, nationality, socio-economic status, or disabilities."
MORE: Reed College to revise Western Civ class
Like The College Fix on Facebook / Follow us on Twitter