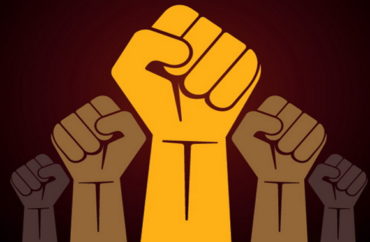 Gustavus Adolphus College English professors also seek to 'decolonize the curriculum'
Professors within the English Department at Gustavus Adolphus College have called for the creation of a Faculty of Color Endowed Chair as part of an effort to address systemic racism.
The position is one of eight published by the department in its statement on anti-racism, written following the death of George Floyd. The department prefaced its propositions with a denunciation of racism and police in America.
"The criminal justice system in the U.S. is racist with modern police forces arising out of vigilante groups that hunted down escaped slaves," the statement reads.
In addition to creating the Faculty of Color chair, Gustavus English professors also called for a commitment to "decolonize the curriculum," invites black students to correct professors openly, and requests "Bards in the Arb" presentations to be focused solely on works by black writers for the next three years.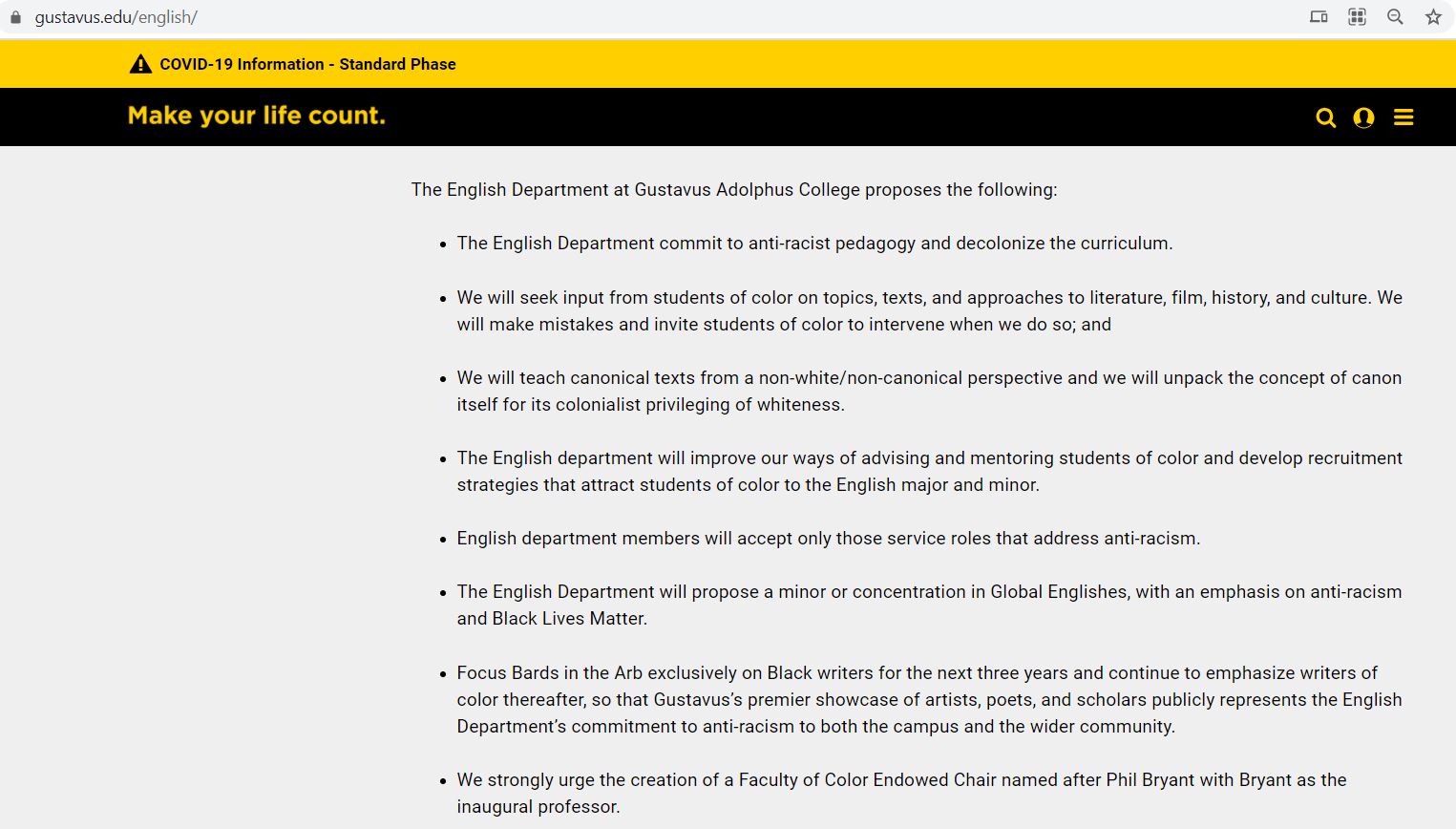 "We will teach canonical texts from a non-white/non-canonical perspective and we will unpack the concept of canon itself for its colonialist privileging of whiteness," one proposal states.
Another adds: "We will seek input from students of color on topics, texts, and approaches to literature, film, history, and culture. We will make mistakes and invite students of color to intervene when we do so."
Neither the English Department chair nor media affairs responded to requests for comment from The College Fix.
One student at the school who asked to remain anonymous for fear of retribution from professors or peers told The College Fix last week that pressure within the department to only assign black authors has not been officially implemented by the department.
"This was an idea that they toyed with earlier in the year, but too many professors disagreed with it, though uncertain as to whether they disagreed for logistical or principled reasons," the student said.
As for the proposed Faculty of Color Endowed Chair, the statement calls for it to be filled by Philip Bryant, a Gustavus alumni and professor of African Studies and English at the school.
Bryant did not respond to questions from The College Fix as to what duties he would fulfill in this role, if it was created.
No other details were provided on the position other than its title, "Faculty of Color Endowed Chair."
Generally, an "endowed chair" is defined as a professorship that is privately funded by an endowment, according to Salarship.com.
"The endowment usually covers the professor's salary, research, travel stipends, and other associated costs. The minimum donation needed to endow a professor has typically been $1M," the website adds.
Gustavus' English Department's statement is signed by 21 scholars affiliated with it, including current professors and emeritus ones.
"Given our privileged positions at a liberal arts college, we must combat the systemic racism of all U.S. institutions, whether political, economical, governmental, cultural, and/or educational; otherwise, our very democracy is threatened, and education is hampered in its role of developing global citizens committed to racial and economic justice," it states.
MORE: University lowers traditional language standards for Black Lives Matter contest
IMAGE: Vilingor / Shutterstock
Like The College Fix on Facebook / Follow us on Twitter