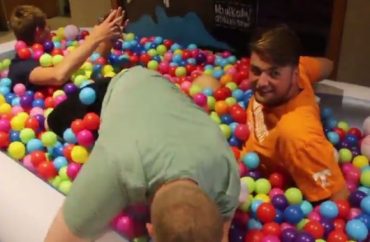 Colleges across the nation are erecting ball pits to help students find an emotional safe space on campus to make friends or express themselves.
More than a half dozen campuses have set up the colorful play pits over the last year alone, Heat Street reports.
The ball pit trend comes as universities turn to offering coloring books to help students de-stress. The University of Southern California even hired a full-time "wellness dog" last week to help students cope with campus life. USC named the 2-year-old black lab Professor Beauregard Tirebiter.
As for the ball pits, they're mostly utilized for a variety of campus observances on topics such as mental health, social justice, diversity, civility and inclusiveness. They are also offered as a safe venue for students to talk to each other and open up and make friends at welcome weeks or student socials.
The play pens are touted as something of a public service, often commissioned by student government associations or campus diversity and activity divisions. The idea being ball pits make students feel like a child again, breaking down barriers and helping them open up.
Part of the University of Tennessee Knoxville's welcome week activities held last month included the "Meet a Vol, Have a Ball!" ball pit. "Conversation starters" were printed on the balls to help students talk and make friends.
The ball pit safe space trend on campus didn't just start in 2016, it's emerged over recent years.
In 2014 at Brandeis University, for example, its "Take a Seat, Break Down Barriers" effort boasted a ball pit filled with balloons. "Questions taped to balloons in the pit sparked conversations about social justice and helped to break down barriers and build understanding," the university's website states.
"The lighthearted and informal atmosphere created a neutral environment to talk about some heavy topics and learn more about others," Brandeis organizers stated.
And at Brigham Young University that same year, the Student Advisory Council hosted a monthly "ball pit social" so students could hang out in the playpen and ask questions written on the balls to each other to increase communication, The Daily Universe campus newspaper reported.
Also in 2014, the University of Nebraska Lincoln's springtime "Smile Week" hosted a "Take a Seat, Meet a Husker" ball pit.
"We want to encourage students to sit down with someone that they wouldn't normally sit down with in the ball pit and make a new friend," according to an organizer.
At Oklahoma State University last fall, the student activity board hosted a "Release Your Inner Child" event to help students "make friends and start conversations," the O'Colly reported.
In April of this year, Susquehanna University's Student Activities Committee hosted its first-ever inflatable ball pit party.
Campuses are not the only ones embracing ball pits, either.
Google has rolled out a ball pit as part of its visitor center. A San Francisco nonprofit also debuted the first-ever adult "ball pit bar" in March.
Like The College Fix on Facebook / Follow us on Twitter
IMAGE: YouTube screenshot