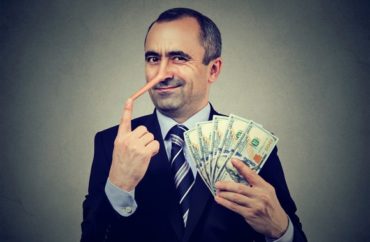 '[Students] deserve transparency when it comes to the financial burdens of higher education, and colleges have no excuse for not providing it' 
A U.S. Government Accountability Office report stating colleges and universities give misleading and often deceptive information to students in financial aid offers has prompted two Republican lawmakers to propose a major reform to how officials must present college financial costs to prospective students.
The GAO report states colleges should include tuition, books, housing and meal costs in their net price estimates — but about 91 percent understate such costs or don't include them at all.
"We believe that lawmakers should use this report to consider legislation requiring colleges to provide clear and standard information in financial aid offers," said Melissa Emrey-Arras, director of the Government Accountability Office Education, Workforce and Income Security team, in an email to The College Fix.
"Parents may also find this report helpful when navigating financial aid offers for their children," she said in her Dec. 29 email.
The Government Accountability Office pointed out in the report, published in November, that federal law "doesn't require colleges to include clear, standard information in all of their financial aid offers. Congress should consider mandating that colleges do so."
In general, a college or university that offers a student a scholarship will generally provide information about the aid for which they are eligible in financial aid offers, the report states.
"Students use these offers to make key decisions, including which college to attend and how to finance their education," it adds.
But the report states that about 41 percent of colleges do not include a net price, which "may leave students guessing how much they will need to pay."
And it pointed out that about "50 percent of colleges understate the net price. Many colleges exclude key costs and factor in loans that must be repaid. Doing this makes a college appear less expensive than it is."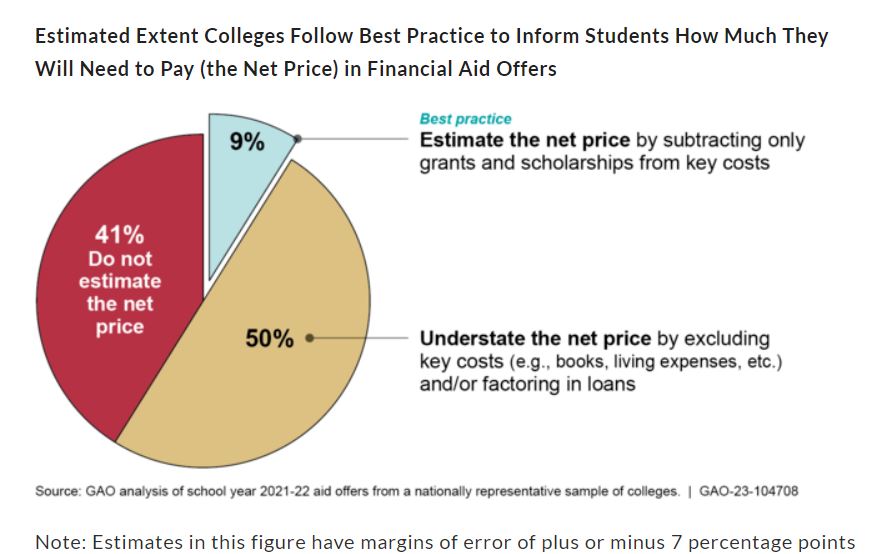 Preston Cooper, a senior fellow at the Foundation for Research on Equal Opportunity focusing on the economics of higher education, responded to the report by arguing that in light of President Joe Biden's debt cancelation plan and legislative efforts to make college more affordable, this issue seems like an easily solvable one.
"Nearly a quarter of financial aid offers do not distinguish between grants and loans," Cooper wrote in a Dec. 13 piece for Foundation for Research on Equal Opportunity Substack.
"GAO cites another offer letter that never once used the word 'loan,' even as the college included loans of nearly $25,000 in the student's 'aid' package. This sort of behavior would get a private bank hauled before Congress, but in higher education it is business as usual."
Only 9 percent of colleges from GAO's sample estimate for students the net price by subtracting only grants and scholarships from key costs.
In response to the GAO's findings, Education and Labor Committee Rep. Virginia Foxx (R-NC) and Rep. Lisa McClain (R-MI) introduced the College Cost Transparency and Student Protection Act.
The bill was introduced in the tail end of the 117th Congressional term.
"Colleges and universities must do better," Foxx and McClain said Dec. 5 when they introduced the bill.
"Prospective students deserve to have all the information necessary to make informed decisions about their education. Schools should strive to provide students with accurate and transparent information about college costs instead of hiding behind opaque language and misleading practices," the Republican lawmakers said in their news release.
The bill would prohibit categorizing loans as financial aid, it would require out-of-pocket costs to be spelled out, and ensure that wording from colleges does not conflate loans with scholarships.
The bill would also establish a uniform template aid offer.
The students would first be provided with a direct cost estimate and then given options on how to pay for the cost, such as loans.
Under the proposal, grants and scholarships that will reduce students' out-of-pocket costs, as well as their options for paying any remaining out-of-pocket costs after those grants and scholarships are used up, would be spelled out separately.
The final portion of the bill calls for the College Scorecard, a federally maintained tool that helps students and parents compare various data on colleges and universities, to include "information on costs, earnings, and loan payments in the same manner as financial aid offers, such that students would see average cost of attendance and average net price, but also the average direct costs and indirect costs as well as what the average student would pay out-of-pocket for them."
Rep. McClain, who sits on the House Education and Labor Committee, told Fox News Digital that students "deserve transparency when it comes to the financial burdens of higher education, and colleges have no excuse for not providing it."
"The GAO report shows shocking proof of colleges underestimating costs by tens of thousands of dollars, leaving students blindsided with the price tag," McClain said.
"I am disgusted at the findings of this report, and I will not allow it to go unanswered. Students should never be responsible for footing a bill they don't even know exists."
MORE: Student loan cancelation would raise college costs, economist predicts
IMAGE: PathDoc/ Shutterstock
Like The College Fix on Facebook / Follow us on Twitter