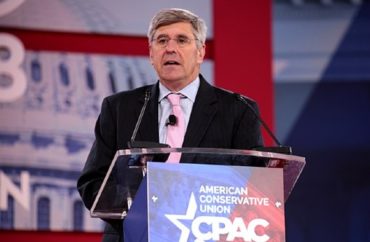 'There is no free lunch, and there is no free college'
Stephen Moore, a former economic advisor to President Donald Trump, wrote in the Washington Examiner on April 28 that President Joe Biden's plan to reportedly cancel student loans would make college more expensive.
There is currently $1.7 trillion in outstanding student loans. Biden said he does not plan to wipe away $50,000 per borrower, but may be leaning closer to $10,000 per borrower, according to CNBC.
"Once student loans move to 'free college' for everyone, university tuitions, which are already soaring at two to three times the inflation rate, would race further ahead of all other consumer prices," Moore predicted.
The Heritage Foundation economist (pictured) wrote that Biden disregards the "fundamental problem" with soaring college costs and student debt, which is that "universities have become fat, flabby, and inefficient money burners with no accountability [and no] oversight."
"No getting rid of bad teachers and professors," Moore stated in his opinion piece. "No looking under the hood to see where extraneous costs could be axed."
Moreover, the cancelation plan is unjust because it "makes suckers out of the millions who have felt honor-bound to pay off their debts…Who would ever pay off a student loan ever again after this blanket forgiveness program?"
Additionally, higher-income families would benefit most from the cancelation because they disproportionately hold the debt. "This is a giveaway to the financially successful students and families paid for by middle-class workers, millions of whom didn't go to elite universities," Moore wrote.
"Why should taxpayers pick up the tab?" he asked. He suggested that "universities with massive endowments, in many cases in the tends of billions of dollars," should be required to pay off student debts incurred by students for "virtually worthless, useless" degrees.
"Democrats think that buying votes this November by making college essentially free will win them elections," Moore wrote. "But there is no free lunch, and there is no free college."
"It's just a question of who pays the piper. And it shouldn't be YOU," Moore wrote.
MORE: Student loans should be repaid based on income, say Georgetown law professors
IMAGE: Gage Skidmore/Wikimedia Commons
Like The College Fix on Facebook / Follow us on Twitter