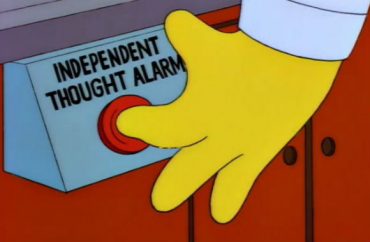 Listicles are a threat to students?
Student media watchdogs are calling for legislation to protect student journalists and their faculty advisers from retaliation and threats of censorship, in response to a "disturbing trend" of "overt hostility" toward them on campuses nationwide.
The courts have provided little help to embattled students, and in some places judges have made them a bigger target, according to a student media report released Thursday that offers little consolation to free speech advocates.
Colleges have never been more "obsessed with promoting a favorable public image" at the expense of accurate reporting in the public interest, said Student Press Law Center Executive Director Frank LoMonte in a press release.
Give us more grad student coverage – or else
Student censors are adding to the misery of student publications who are seeing their rights eroded by hostile administrators, according to the report.
It was written jointly by SPLC, the American Association of University Professors, the College Media Association and the National Coalition Against Censorship.
MORE: White student columnist tormented by Black Lives Matter activists
"[O]ne media adviser reported that a representative of graduate student government threatened to cut the newspaper's funding if the newspaper did not cover more graduate student events," the report says.
It also recalls the racial protests that took over the University of Missouri a year ago, in which professors and student protesters tried to control the movements of journalists covering the spectacle.
Censorship by administrators may be more severe than is publicly acknowledged.
The College Media Association surveyed college media advisers in March, with 20 of them relating previously unreported attempts by administrators to assert control over student newspaper content in the past three years, the report says. (The College Fix was unable to locate that CMA survey to identify its sample size and methodology.)
Many incidents went unreported because advisers feared losing their careers. One four-year university demanded pre-publication review after the newspaper published a "frivolous" listicle highlighting the "top ten places to hook up on campus."
Treating college students like high schoolers
Student journalists are often left wondering whether their free speech rights will be respected, owing to a dearth of recent Supreme Court rulings on whether college student publications are afforded the same protection as professional media.
The report said it doesn't expect imminent federal clarification, which is why recent state legislation "offers the most promising recourse for curbing the worst abuses of student media rights."
MORE: Student paper could be crippled in retaliation for BLM op-ed
In 1988, drastically narrowing the scope of 1969's Tinker ruling, the Supreme Court ruled in Hazelwood that administrators at a Missouri high school could censor student publications for "legitimate pedagogical concerns."
Once thought only to apply to secondary school publications, four federal appeals courts have applied Hazelwood to colleges as of 2013, according to the Foundation for Individual Rights in Education.
"The Hazelwood level of institutional control is irreconcilable with the ethical teaching and practice of [college] journalism," the report says.
Starting in the previous academic year, free speech advocates have mounted a multi-state campaign to introduce "New Voices" legislation in state legislatures that would protect secondary and college students alike from Hazelwood-style censorship.
MORE: Bills to protect student journalists more popular in conservative states
The SPLC-led effort to "cure Hazelwood" has seen limited success since it was first introduced in North Dakota last year.
In Missouri the Walter Cronkite New Voices Act was stopped dead in the Legislature at the 11th hour. SPLC's LoMonte told The Fix in August that a single senator held it from going to a vote.
Help us raise money instead of censoring us?
The time-honored advice to maintain financial independence from administrators – so they can't retaliate with budget cuts – no longer holds.
Sustaining operations on ad revenue alone, as the AAUP's 1967 joint statement had suggested, is no longer feasible in a post-print world, the report says. It recommends that student publications explore foundation grants and alumni donations to diversify their revenues.
Even so, the report's recommendation puts the responsibility of securing donations on administrators, who have a potential conflict of interest.
MORE: Approved bill protects North Dakota student journalists from censorship
MORE: Feminists want to regulate college speech with K-12 ruling
Like The College Fix on Facebook / Follow us on Twitter
IMAGE: Frinkiac.com