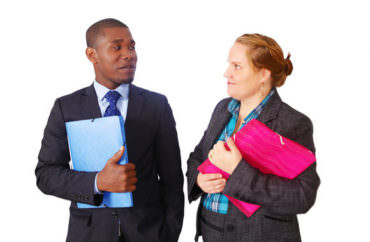 Easy answer: Just don't mandate it
While it's an open question whether colleges are generally affected by President Trump's executive order that bans grant funds from promoting "race or sex stereotyping or scapegoating," some colleges aren't taking any chances, at least for now.
The University of Iowa told the community it has asked "all units" to pause several programs for two weeks, "given the seriousness of the penalties for non-compliance with the order. They include harassment and discrimination training for employees, trainings by the Diversity Resources unit, the provost's search committee training and supervisor training by human resources.
Also paused: employee trainings, programs and workshops "that describe race or sex stereotyping and race or sex scapegoating," and diversity, equity and inclusion trainings that include "divisive" concepts as defined by the order.
This is not a hard bar to clear, yet the University of Iowa likely has lots of cutting to do. The order defines "divisive" concepts:
(1) one race or sex is inherently superior to another race or sex; (2) the United States is fundamentally racist or sexist; (3) an individual, by virtue of his or her race or sex, is inherently racist, sexist, or oppressive, whether consciously or unconsciously; (4) an individual should be discriminated against or receive adverse treatment solely or partly because of his or her race or sex; (5) members of one race or sex cannot and should not attempt to treat others without respect to race or sex; (6) an individual's moral character is necessarily determined by his or her race or sex; (7) an individual, by virtue of his or her race or sex, bears responsibility for actions committed in the past by other members of the same race or sex; (8) any individual should feel discomfort, guilt, anguish, or any other form of psychological distress on account of his or her race or sex; or (9) meritocracy or traits such as a hard work ethic are racist or sexist, or were created by a particular race to oppress another race.
A new "Training Review Committee" that includes the general counsel will vet all trainings, workshops and programs going forward, the university said.
The Office of General Counsel told Inside Higher Ed the university is "both a federal contractor and a recipient of funds from federal agencies," so it believes the order "may be read as applicable to all our employees and not just to those working on or funded through federal contracts."
The private John A. Logan College in Illinois has suspended diversity events including a "Hispanic Heritage Month talk," according to Inside Higher Ed.
The professor who was slated to give that talk, Southern Illinois University anthropologist Robert Barrios, said his talk "Reflections on Hispanic and Latinx Identity in a Time of Upheavals" was not covered by the executive order. He was going to discuss his "relative privilege" in Guatemala compared to indigenous peoples, and discrimination his family faced when they immigrated:
"The overwhelming majority of Americans seek to do the right thing," Barrios said. "The challenge is that being ethical requires us to be able to think for ourselves, and in order to think for ourselves we have be given the tools to do that."
Prof. Bruce Gilley of Portland State University, who is enduring ongoing attacks for arguing colonialism has produced some good results, said universities have an easy way to comply with the order:
He said the order "does not ban DEI courses at universities for those who want to take them," just the "forced indoctrination of students, as well as employees of federally funded institutions."

"Just as I would not support mandatory training in capitalism and rugged individualism," he said, "I do not support mandatory training in any political ideology. Claims that this is important to inspecting airplanes, discovering cancer cures or improving accounting standards are a thin cover for ideological impositions on the public square."
Read the university note and report.
MORE: How does Trump's order affect critical race theory in higher ed?
IMAGE: se media/Shutterstock
Like The College Fix on Facebook / Follow us on Twitter