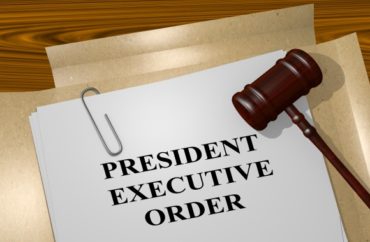 UPDATED
In a new executive order, President Donald Trump restricted federal funding for critical race theory trainings in order to "combat offensive and anti-American race and sex stereotyping and scapegoating," and some are left questioning how this order impacts diversity trainings in higher education, if at all.
Citing the Constitution's "all men are created equal" line, the order describes how critical race theory is mostly meant to make white people believe they are inherently sexist and racist, which undermines inclusive workplaces everywhere, as well as the American ideals of freedom and equality.
"Such ideas may be fashionable in the academy," the order reads, "but they have no place in programs supported by Federal taxpayer dollars."
"Therefore, it shall be the policy of the United States not to promote race or sex stereotyping or scapegoating in the Federal workforce or in the Uniformed Services, and not to allow grant funds to be used for these purposes."
Does this include at colleges and universities receiving federal funds? The U.S. Department of Education is reviewing that very question now. A department spokesperson told The College Fix its officials are examining the implications of the executive order.
But one of the leading critics of critical race theory training, a researcher credited with helping to inspire the executive order, Christopher Rufo, stated he believes the order will "disrupt the flow of money to academia's critical race theory programs. The order stops all federal grants that support CRT—with the potential to cripple hundreds of academic projects moving forward."
The executive order will also disrupt the flow of money to academia's critical race theory programs. The order stops all federal grants that support CRT—with the potential to cripple hundreds of academic projects moving forward. pic.twitter.com/h2CBH0oa6v

— Christopher F. Rufo ⚔️ (@realchrisrufo) September 22, 2020
Some higher education leaders are not so sure.
A Sept. 28 statement put out by leaders of the University of Michigan-Flint alerted the campus community that their attorneys are reviewing the order but that "it does not have an immediate effect on the University, either as a federal contractor or as a federal grant recipient."
Yet administrators remain concerned.
Mark Schlissel, president of the University of Michigan in Ann Arbor, stated in a Sept. 26 memo that the order "has the potential to undermine" the school's diversity and inclusion efforts.
"The very troubling language in this executive order seeks to ban federal contractors from conducting racial sensitivity training, and places off limits the discussion of 'divisive concepts' in federally funded training, and potentially, in organizations that receive federal grants," he states. "… The university will continue to examine the implications of this order and speak out against it."
Asked to weigh in on the debate, George Washington University law Professor John Banzhaf said he does not believe the order has a chance to "cripple" academic projects, as Rufo had suggested.
"The order itself stops nothing at all," Banzhaf told The College Fix. "It has no requirements for any college or any university, it is not cutting off any grants, it is not threatening to cut off any grants. All it is doing is saying to various agencies, figure out whether in the future if you might be able to condition a certain grant."
Banzhaf continued, adding that colleges and universities have the ability to fund their own race theory instruction, but would have to comply with restrictions should they use government funds to do so.
"Even if somehow this does carry through and directly does apply to colleges, it's only their funding, and colleges are certainly free to put on their own programs and fund their own programs," he said. "They're not crippled at all, they simply don't use federal funds, so I think saying it cripples anything is really going too far."
The Fix also reached out to former U.S. Department of Education Deputy Assistant Secretary for Higher Education Programs, Adam Kissel, who said colleges and universities are not entirely in the clear.
"Many colleges require employees to undergo training that would violate this order. Colleges that are government contractors or vendors need to act quickly to stop scapegoating and stereotyping people by race and sex. Contract research at these institutions, as opposed to research grants, is in jeopardy," he told The Fix via email.
"Meanwhile," he continued, "the order in no way interferes with an instructor's or institution's ability to teach students or make public statements expressing such divisive views, if they so desire."
In a statement released by the National Association of Diversity Officers in Higher Education, the group denounced the order as a denial of history on the president's part.
"NADOHE vehemently opposes eliminating such education and development of federal employees, many of whom work in federal agencies charged with providing federal assistance to diverse communities nationally and globally."
"At a minimum," the statement continues, "these learning opportunities are designed to explore cultural differences, the range of social identities that are impacted by these federal agencies' work, and racism and structural racism as part of United States history."
Editor's note: After publication, the Ed Dept. clarified to The College Fix that its officials have not yet determined how, exactly, the executive order will affect colleges and universities. The article has been amended to reflect that stance.  
MORE: Profs nationwide push critical race theory narrative through massive strike
IMAGE: Shutterstock
Like The College Fix on Facebook / Follow us on Twitter