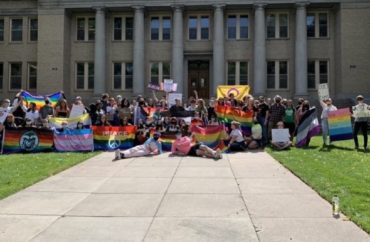 University officials refuse to regulate speech
Colorado State University students continue to have trouble convincing school officials to regulate campus free-speech they do not like.
The group #CallOutCSU demanded that the public university accede to a list of demands by October 17, including tighter regulation of "hate speech."
But #CallOutCSU's Instagram page does not show any indication that the university has responded to its demands, instead it continues to encourage followers to rally for the demands.
The public university's media relations team has not responded to two emails sent in the past three weeks by The College Fix.
It comes a few months after university officials ignored demands from its student government to review materials from outside groups, including from a pro-life pregnancy resource center.
The activist group wants CSU to "issue a statement condemning hateful and violent behavior against LGBTQIA+ and BIPoC students when incidents of racism, transphobia, and homophobia occur on campus" and also "[affirm]the rights of each student group and unequivocally tak[e] a stance on equity and inclusion after each incident."
The group appears to refer to the presence of Christian preachers who were on campus, condemning homosexual behavior, in early September. The university released a statement after the protests which affirmed that it supported the free-speech rights of students and the community.
Won't back up 'trauma' with police reports, proof of campus hatred
The College Fix asked the group for comment from the student activists, including for information on hate crimes and assaults against minority students on campus. The Fix also asked for information about what hateful acts and speech the group's letter addressed.
An unsigned Twitter message from the group on September 30 said it found the questions "unacceptable."
"Many students are facing stalking, interpersonal violence, sexual harassment, and other forms of sexual violence and we feel providing details of these events would compromise the safety of both organizers and students who've experienced this," the group said.
The group provided a link to the university's Clery Report for the past three years, which show "175 documented incidents of sexual and interpersonal violence."
There have only been four reported hate crimes for the past three years and none reported in 2020.
As we go into this next week, reminder to rest. This semester has been a blur and incredibly heavy. Know that your rest is resistance too. We're not going anywhere, we just need to rest too. You're incredibly loved and you contain multitudes 🏳️‍⚧️❤️ #calloutcsu

— CallOutCSU—Join Our Discord, Link in Bio (@CallOutCSU) September 26, 2021
"As organizers, many of us who are gender expansive, we feel strongly about not performing our trauma to convince those writing editorials and articles that our lives matter, that our experiences are legitimate, and that we need to back up traumatic experiences with a police report," the Twitter message said.
The group shared a link to a Vox article about police violence and people suffering from gender confusion as well as a June 2014 Department of Justice report that shows "66% of people who identify as transgender, nonbinary, and gender being survivors of rape," according to CallOutCSU.
MORE: Students protest gender, marriage talk as 'hate speech
"Your comments were violating and uninformed, and simple research into violence faced by the LGBTQIA+, especially trans, nonbinary, gender expansive and queer people of color, you'd get the answers for your questions," the group concluded. "Furthermore, the newspaper you write with is not associated with CSU, nor are you a CSU community member, and we do not feel comfortable giving you details about traumatic and violent events for students so you can publish our pain for your profit. If you have legitimate questions and concerns we are more than happy to answer them, but we will not be allowing our lives, our pain, and our experiences to be commodified for clickbait."
The Twitter message said that it would be "negligible" to put its organizers in "further danger" by asking them to provide further details on violence, since one has already experienced "harassment as a result of being publicly identified."
The group also wants a task force set up to investigate hate speech, an alert system for any bias harassment and all speakers "participating in hate speech" moved to a "stump" on campus.
Ethnic Studies declines to comment on proof of rampant hate
The public university's Ethnic Studies Department supports the demands of the student group and also has condemned another controversial situation on campus.
"Friday, September 10, posters were placed on campus with misleading and derisive phrasing about diversity," the Ethnic Studies department wrote. "This phrasing has been used in the past by white supremacists and used by various individuals, groups, and institutions in the current climate with the intention to cause discomfort, division, and ultimately terror."
The post did not include any photos of the actual flyers so that readers could understand what it said.
Nor would the department provide copies of the flyers and further information when asked by The College Fix through several emails.
"The department has no comment," Josh Zaffos, a department staffer, told The College Fix on September 30.
ALERT: Check out the Campus Cancel Culture Database
IMAGE: CallOutCSU/Instagram
Like The College Fix on Facebook / Follow us on Twitter