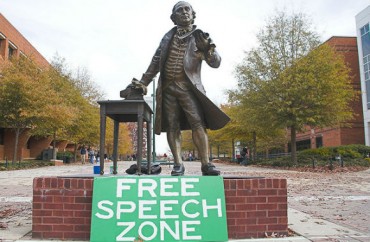 'Unscheduled speech'? Take it to the zone
Two months after University of Colorado-Colorado Springs professors came under scrutiny for telling students to drop their class if they dispute man-made climate change, the university is drawing attention for another perceived stifling of student speech.
A campus safety officer told campaign staffers for U.S. Senate candidate Darryl Glenn, the Republican nominee, to move their canvassing and survey activities to the lone free speech zone on campus. One staffer is a current UCCS student.
That action has prompted two student senators and the president of the campus Young Americans for Liberty (YAL) chapter, among others, to craft a resolution that asks the university to designate the full grounds of the university as a "public forum" under the First Amendment.
MORE: Professors tell students to drop class if they dispute man-made climate change
0.00002 percent of campus
Glenn for Senate Youth Director Alex Meyer and UCCS student Brandon Leiser, a campaign intern, were doing their activities on the West Lawn Oct. 24 when the officer approached.
Meyer posted an audio recording of the encounter in a private Facebook status, which The College Fix has reviewed. In the recording, the officer rationalizes the request by stating that "people feel like they're imposed upon when they just want to go to their class."
Speech for which space has not been reserved ahead of time – "unscheduled speech" – must take place in the sole free speech zone on campus, university attorney Tia Luber told The Fix in a phone interview.
#LiberalPrivilege is trying to define a "free speech zone" as anywhere except as shown below: pic.twitter.com/L1iWPObMff

— MaDo (@XX__MaDo__XX) October 19, 2016
By The Fix's personal measurement of the zone, it's about one hundredth of one acre. That would make the zone 0.00002 percent of the 510-acre campus, as measured by U.S. News & World Report.
Yet a few weeks before the Glenn campaign incident, The Fix observed nearby businesses promoting their establishments on the West Lawn without any apparent interference from the university. A newly renovated Domino's Pizza franchise was handing out coupons, for example.
MORE: Chancellor apologizes for email prohibiting climate-change debate
First Amendment 'should apply to every square inch'
In response to several incidents implicating freedom of expression at UCCS, a small group of students has sought to reaffirm the right to free speech and abolish the zone completely.
Senators Christian Fazel and Jeremy Nelson and YAL President Ricky Wickham are working on draft resolutions, but they are not public yet because they have not been subject to a vote.
They are following the lead of two CU-Boulder student government leaders, Marcus Fotenos and Colton Lyons, who drafted a resolution that reads in part:
The First Amendment of the Unites States Constitution should apply to every square inch of the public forum at the University of Colorado at Boulder.
Exclusive: University of Colorado at Boulder Student Government takes heroic stand … – https://t.co/75OC0QG4oc pic.twitter.com/yMfnpLa2qE

— HYPELINE (@HypelineNews) August 16, 2016
The resolution passed unanimously, according to Hypeline. The July 28 Legislative Council minutes show that the measure was approved on first reading at a previous meeting, but senators wanted to make additional amendments to clarify that it was not an enforceable "ordinance" and did not promote "disruptions" in classrooms.
Fotenos told Hypeline he wants to work with state leaders to make Colorado the fourth state, after Virginia, Missouri and Arizona, to "prohibit public colleges and universities from restricting student speech."
MORE: Democrat-led states are killing free speech zones
'Free speech wall' loses to Clinton booster
The resolution is not binding, and the CU-Boulder administration has not treated it as such.
In a video posted last week by Jade Haney, Colorado state coordinator for Youth for Trump, a campus official asks Youth for Trump demonstrators to move their "free speech wall" to the campus free speech zone because they had not "scheduled" it.
Haney claimed that a young woman campaigning for Democratic presidential nominee Hillary Clinton was not asked to move, despite "yelling at bystanders and mocking" the pro-Trump group.
MORE: Arkansas Tech says speech code overrules Constitution
UCCS's relegation of political speech to the free speech zone goes back at least a decade.
The Colorado Springs Independent reported then that a women's advocacy group was forced to relocate to the zone for its satirical bake sale to highlight the gender wage gap. The College Republicans chapter had previously hosted a "Global Warming Beach Party" in the same area where the women's group had sought to demonstrate.
Universities have other ways of making it difficult for students to exercise their speech even when they pay for the privilege.
Terps for Trump was forced to cancel its Oct. 22 event featuring gay conservative provocateur Milo Yiannopoulos when the student group couldn't quickly fundraise the hiked security fees mandated by the University of Maryland, The Washington Post reported.
EDITOR'S NOTE: The author was directly involved in earlier efforts to pass a resolution against free speech zones at UCCS.
MORE: Clemson stops man from praying because he's not in free speech zone
Like The College Fix on Facebook / Follow us on Twitter
IMAGE: dcJohn/Flickr