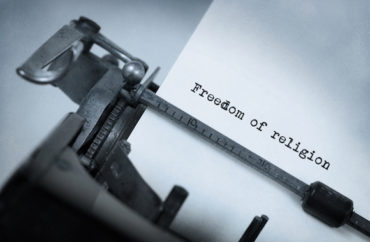 A federal court may soon determine whether universities may dictate the leadership structure of a student organization that's dedicated to defending and supporting Christian principles with logic, reasoning and facts, according to a lawsuit filed in Colorado.
The student organization, Ratio Christi, "is a global movement that equips university students and faculty to give historical, philosophical, and scientific reasons for following Jesus Christ," according to its website.
Beginning in 2016, the Christian apologetics campus organization was denied formal registration status by the University of Colorado-Colorado Springs due to a requirement in the group's bylaws that its officers must "share and personally hold Christian beliefs."
According to campus officials, Ratio Christi cannot be registered with the university unless it allows non-Christians – even those with explicitly anti-Christian beliefs – to hold leadership positions within the group.
Last November, Ratio Christi sued in Colorado federal district court, arguing that the university's denial of recognition represented "content and viewpoint discrimination" against the organization for their members' "expression and religious beliefs." In its complaint, the group simply asked the court for formal recognition on campus.
In the next two weeks, UCCS is expected to formally respond to Ratio Christi's lawsuit, either by filing a motion to answer or by filing a motion to dismiss the lawsuit. The court is then expected to begin scheduling official proceedings at the end of the month.
According to Ratio Christi's attorney, Travis Barham of the conservative law firm Alliance Defending Freedom, the university hasn't responded yet because the court granted an extension of the filing deadline and ADF didn't oppose it.
The university's Jan. 16 motion for extension said it was "still in the process of retaining outside counsel and familiarizing outside counsel with the matters in this case," due to the holidays and incoming administration of Gov. Jared Polis, a Democrat. It now has until Feb. 19 to respond.
Denial of registered status on campus strips an organization of the ability to access student fees, campus meeting spaces and administrative support. Further, fully recognized groups are able to use the university's logo on promotional materials and use the university's tax-exempt ID number to claim tax-exempt status.
Barham said the case centers on the "simple proposition that students have the right to organize around their shared beliefs."
This right "is something that has been part of our constitutional freedoms even before our Constitution was ratified," Barham told The College Fix via phone. "It says students groups are free to choose leaders who adhere to the beliefs of their group, and students are free to require members to adhere to their beliefs."
At primary issue is the university's policy that prevents a student organization from discriminating based on "political philosophy." Yet according to the lawsuit, the definition of "political philosophy" is left entirely to a handful of university officials who then determine whether discrimination has taken place.
Ratio Christi's initial filing says UCCS objected to the provision of the group's constitution that requires prospective members to "agree with and promote" their Christian values. The group's members, however, answer their constitution explicitly states that students do not have to hold or adopt any religious beliefs to become members or participate in its activities.
Additionally, the group contends in its lawsuit that campus officials' application of the rule preventing discrimination based on political philosophy is applied unevenly among student organizations. For instance, the campus Trans Student Union requires that its members "believe that transgender people are the gender they say they are." Under the Trans Student Union's constitution, any "transphobic" comments or behavior "will be addressed by the club leadership and/or the club advisor," up to and including banishment from the group.
On the campus of the University of Colorado, Boulder, the Gender & Sexuality Alliance states that its "weekly meetings are offered to all trans*, queer, intersex, and allied students." In its lawsuit, Ratio Christi argues this group would "refuse to accept as members or officers students who hold Biblical beliefs that human beings are created as either male or female, that their status as such cannot change, and that sexual conduct is to be reserved for a marriage between one man and one woman."
Yet while requiring their members to hold certain beliefs, these groups are registered as official organizations within the University of Colorado system, and are thus privy to all the benefits afforded official groups. Each UCCS student pays $14 per semester in mandatory student activity fees, and those funds are distributed to registered organizations on campus, whether the student paying the fee agrees with that group's mission or not. Within the University of Colorado system, there are 270 recognized student organizations, including some that explicitly profess political missions that run counter to Ratio Christi's, including the College Democrats, the Young Democratic Socialists of America, and "Be Fair Be Vegan."
Barham told The Fix the crux of the case is the free-association issue.
"Can a public university refuse to recognize a Christian student group simply because it says its officers must be Christians?" he asked. "We believe the answer is no," he said, "based upon a host of First Amendment case law, some dealing with free association, some dealing with viewpoint discrimination, some dealing with student fees."
The University of Iowa is currently facing a similar lawsuit by a Christian student group called Business Leaders in Christ for its refusal to allow the campus club to choose its leaders.
MORE: UCCS forces Christian students to give up rights to get recognition
Like The College Fix on Facebook / Follow us on Twitter