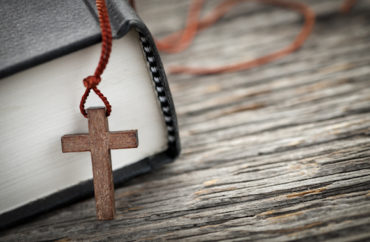 Face expulsion if they only allow Christian leaders
The University of Colorado-Colorado Springs has laid down some rules if Christian students want to be registered as a student group.
They must "abandon their rights to free speech, free association, free exercise of religion, freedom from unconstitutional conditions, due process, and equal protection to access campus resources  available to all other student organizations," according to a federal lawsuit filed against the taxpayer-funded institution's regents and administrators Wednesday.
Ratio Christi is seeking formal recognition by UCCS but the university is requiring the student apologetics ministry to change its "leadership and membership criteria," a condition that administrators haven't enforced on other groups – "thereby favoring some viewpoints over others," the suit says.
It's similar to lawsuits against Wayne State University and the University of Iowa by Christian ministry InterVarsity. Ratio Christi also sued Kennesaw State University for banishing its chapter's "dialogue" display on abortion to a muddy patch of campus often used by off-campus groups.
The Christian students have been seeking recognition at UCCS for two years.
Director of Student Clubs Sabrina Wienholtz and Coordinator of Student Clubs Krystal Schiffelbein told Ratio Christi officers in November 2016 their constitution couldn't be approved "because it required that its officers be professing Christians," a violation of nondiscrimination policy.
At a meeting the following February, Schiffelbein said "Ratio Christi could not say that members must agree with and promote the purposes of the organization because those purposes are religious," according to the suit.
The same thing happened a year ago and this spring, each time "at the instruction or with the approval" of Brad Bayer, senior executive director of student life; Sentwali Bakari, vice chancellor for student success; and Chancellor Venkat Reddy, the suit claims.
MORE: Judge forces U. Iowa to recognize Christian group same as Muslim group
The Christian students are challenging student organization policies that let officials deny registered status on the basis of limiting leadership to those who advocate a group's "political philosophy," a term the policies don't define.
These policies also let UCCS discriminate against religious organizations such as Ratio Christi that select leaders who "share and will advocate for the organization's religious beliefs," and members who "support its mission and purpose."
This gives administrators "unbridled discretion" in whom to award mandatory student fees, which Ratio Christi members are forced to pay to groups whose values they oppose.
University policies also let administrators make viewpoint-based decisions on who to fund based on how "closely aligned" they are with the "mission" of UCCS, whether a group has a "close affiliation" with a unit of the college, and whether the registration of the group "furthers the interest" of the university.
Excluding Ratio Christi from recognition not only means it can't receive student activity fees while its members are forced to pay into the fund – it can't reserve space for free or reduced cost, get administrative support or even get tax-exempt status, the suit claims.
If the group were to be registered and then choose leaders and members in line with its beliefs and mission, those students can then face discipline including expulsion under UCCS rules.
In a press release Thursday, the group's lawyers at the Alliance Defending Freedom said UCCS doesn't apply the same rules to nonreligious groups and exempts male-only fraternities and female-only sororities from sex-discrimination rules.
UCCS is blatantly violating its own professed core values of diversity and inclusion, said Tyson Langhofer, senior counsel at the alliance.
"It would be absurd for the university to require the vegan student group to appoint a meat-lover as its president," said his colleague Travis Barham. "Likewise, the University of Colorado shouldn't force Christian students to let atheists or other non-Christians to lead their Bible studies in order to become a registered club."
Read the lawsuit and alliance statement.
MORE: Mich. governor, AG oppose Wayne State in dispute with InterVarsity
IMAGE: Elena Elisseeva/Shutterstock
Like The College Fix on Facebook / Follow us on Twitter