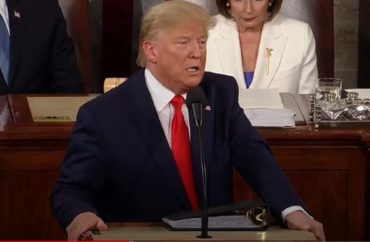 Criticized medical journal for not singling out Trump
A doctor and professor at Columbia University's medical school wants to see President Donald Trump declared a "public health threat."
Professor Raymond Givens in an op-ed on October 22 in MedPage Today argued Trump is "one of the most serious threats to public health and human rights in modern American history.
"The entire American medical establishment has a duty to name Donald Trump, specifically, as a public health threat," Givens said.
Givens criticized the president for his coronavirus response and other policy decisions and statements.
https://t.co/ngvfRkzXkG My challenge to American medicine to speak the truth- that @realDonaldTrump is a threat to public health. The recent @NEJM editorial https://t.co/ygC4v0PQ6N cleverly avoids calling him by his name. It's time to be brave. Name the threat: @realDonaldTrump

— Raymond Givens (@rcg1812) October 23, 2020
Other threats to public health, according to Givens, include holding rallies, not requiring attendees at a White House event to wear masks, and criticizing some Mexican illegal immigrants as rapists and drug dealers.
"Amid rising caseloads across much of the country, he has held large rallies packed with barefaced attendees," Givens said.
Givens explained:
We must acknowledge that Trump, through his wanton recklessness, jeopardized not only his own health but also the health and security of the nation. His preventable illness came at a time of heightened anxiety, instability, and political uncertainty.

Medicine acknowledges racism as a public health crisis but is silent about the racist vitriol emanating from the White House. Donald Trump exploited the racist and xenophobic "birther" conspiracy against President Barack Obama, whose election unleashed a spasm of rage and resentment that Trump rode all the way to 1600 Pennsylvania Avenue. Candidate Trump slandered Mexican immigrants as rapists, drug dealers, and carriers of infectious disease — the last smear now particularly ironic.
Givens also repeated the debunked claim that President Trump said white nationalists were "very fine people."
"His 'both sides' statement about the fatal 2017 violence in Charlottesville, Virginia," Givens said, "was part of his well-established pattern of hesitating to condemn or tacitly endorsing white supremacists."
The professor criticized the New England Journal of Medicine for a recent editorial that criticized the federal government's coronavirus response but did not directly implicate Trump.
"We are ethically bound to identify threats to the health of patients and populations, to speak the truth even if it provokes the anger of powerful people," Givens said.
He concluded:
Donald John Trump Sr., 45th President of the United States of America, is a proven threat to the health of humanity — and the medical community must say so. Mr. Trump is unprepared for the multiple crises facing America and shows no signs that he can improve his performance, or that he wants to. He lies prolifically, is defiant of expertise, and seems unconcerned with the countless people killed or harmed as a result. His hostility to truth is both a moral hazard and a very real physical danger.

Antiracism means condemning the racist-in-chief. No one wants to offend a sitting president, especially one as belligerent as Trump. But American medicine dares to speak up for people harmed by the predation and deception of tobacco companies and NRA. As we drown in a sea of discrimination, disinformation and indifference, it is time for medical leaders, journal editors, and professional societies to wade in. The entire American medical establishment has a duty to name Donald Trump, specifically, as a public health threat and strongly recommend that the upcoming election end his presidency.
Givens has previously pushed the private university in New York to rename a building named for a slave owner.
MORE: Teacher rips student for naming President Trump as person he admires
IMAGE: Guardian News/YouTube
Like The College Fix on Facebook / Follow us on Twitter