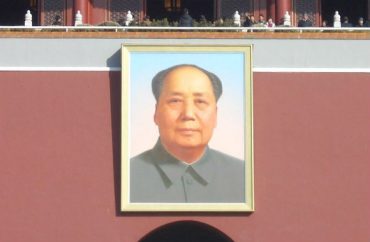 UPDATED
Pro-Chinese student group reportedly threatened the Ivy League school
A prominent Chinese human rights attorney and scholar announced Friday that a planned panel on human rights violations by the Chinese Communist party had been canceled, pointing to pressure by pro-Chinese students as the cause.
Teng Biao made the announcement on Twitter Friday that the event that had been planned for the day before had been canceled hours before it was supposed to take place, saying a Chinese student group had threatened the Ivy League school.
The planned panel, "Panopticism with Chinese Characteristics: Human Rights Violations by the Chinese Communist Party and How They Affect the World," was slated to include lawyer Biao, Tiananmen Square massacre survivor Rose Tang, exiled Tibetan Dorjee Tseten, Hong Kong activist Roxanne Chang, and Rushan Abbas, the executive director of Campaign for Uyghurs.
[Thread] A Chinese student group, likely CSSA, threatened Columbia University to cancel a panel discussion on #humanrights in #hongkong #tibet #EastTurkestan #Uyghurs and #China. And they successfully blocked the discussion. An extreme insult to free speech in this country.

— 滕彪 (@tengbiao) November 15, 2019
All of them are critics of the Chinese Communist party.
The panelists issued a joint statement blasting pro-communist party Chinese students across the country for "incidents of blatant vandalism, hate speech and physical assaults," saying that this was only the latest example.
"We were shocked that our event became the latest casualty of a worrying trend in which organized groups of pro-Beijing Chinese students in American universities vandalize posters, threaten, intimidate and harass students, staff and even guest speakers on and off campus—whoever they do not like or do not agree with, including Chinese students," the joint statement reads.
In his Twitter thread, Biao revealed that pro-democracy Chinese students had told him that students in Chinese Students and Scholars Association, a student group with chapters at numerous colleges and funded by the Chinese government, report to Chinese consulates any time there is a campus event critical of the Beijing government. Consulate officials then counsel students on what they should do.
The Columbia Spectator reported that the event was in fact canceled due to a failure to follow the proper channels to book an event, something that is not mentioned at all in Biao's twitter thread or the panelists' statement.
The Spectator quoted a university spokesperson who said that once proper procedures are followed, the panel may be rescheduled.
Columbia was actually the second planned location of the event, after plans to hold it at NYU's Kraft Center for Jewish Student Life fell through for similar booking situations, the Spectator reported.
"We're extremely concerned that American universities, safe havens that welcome all from around the world, beacons of freedom, independence and truth, have become battle fields and fallen victim to the dictatorship that is the Chinese government," the panelists' statement said.
"The clashes in universities have been instigated mainly by two organizations, the Confucius Institute, an arm of China's Education Ministry, and the Chinese Students and Scholars Association, which has chapters on nearly every American university campus and is financed and sponsored by the Chinese Embassy and consulates."
The panelists said it was "shocking" that the Chinese Communist party "has been allowed to wield its power over American educational institutions where academic freedoms and freedom of speech are protected and promoted."
"As dissidents persecuted by Beijing," they continued, "we're dismayed that we now have to defend our freedoms in our country—the United States of America."
Calling the cancellation an "insult to academic freedom, free speech and the whole educational sector in this country," the panelists said that it was "important" for American students to learn about the Chinese government's actions towards Hong Kong, East Turkestan, Tibet, and Southern Mongolia, but "the Chinese government's long arm has repeatedly prevented such discussions from happening."
"We're deeply disturbed to witness this unfortunate incident at a prestigious university like Columbia University," the panelists said. "It's a sign of how deeply the Chinese government has infiltrated our academic institutions and exert influence. We believe students have the right to an education free from the Chinese government's influence and an environment free from China's censorship efforts."
The would-be panelists called on colleges across the country to shut down Chinese Student and Scholar Associations, along with the academic Confucius Institutes that have also faced criticism for their ties to the Chinese government.
They also called on Congress to "host hearings and conduct investigations on the Chinese Communist Party's infiltration, intimidation and encroachment of academic freedom and freedom of speech in American universities and schools."
Columbia, Teng Biao, and the Chinese embassy did not immediately respond to a request for comment from The College Fix.
UPDATE: 
In a statement to The College Fix, Columbia reiterated that the only reason the panel did not take place was "basic steps to reserve a room at Columbia were not followed."
"The event organizers' original plan was for the event to be held at NYU," the statement said. "The subsequent effort to quickly move their event to Columbia failed to meet basic procedural steps required of every student group—a mundane reason, but the true one. Should Columbia's chapter of Amnesty International want to reschedule the event, the proposed panel discussion will be welcomed at Columbia once the required procedures are met."
In a text message late Wednesday, Biao acknowledged that the student group had made "procedural mistakes when applying for a venue," but added "it is also true that CSSA made the threat. The problem is the student who has the evidence is not willing to share the messages and email exchanges for understandable reasons."
Not elaborating on those "understandable reasons," the human rights attorney made clear that he believes that "CSSA's threat to free speech on American campuses should be paid more attention."
MORE: Hong Kong students face harassment in US over conflict with China back home
IMAGE: Poco a poco / WMC
Like The College Fix on Facebook / Follow us on Twitter