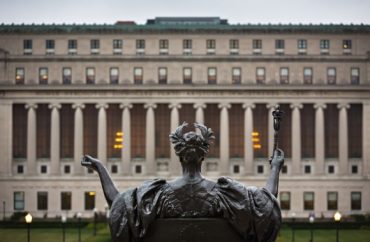 Columbia University's radio station recently censored a guest who was slated to come on air and read parts of her work, including this line: "Women who live in secular countries and conform to religious dress codes make the lives of all women less free and less safe."
Laurie Stone was set to discuss her work My Life as an Animal, Stories earlier this month on WKCR, but three hours before her appearance a student producer emailed her and told her she had to take that line out, the National Coalition Against Censorship reports.
The producer stated in part that "some particular lines in your selections do not reflect our station's values and more importantly our university's values." Another line the producer took issue with had the f-word in it.
"We have two options: if you think that censoring these lines and ones like it would compromise the integrity of your work, we can cancel the interview tonight and potentially schedule another one in the coming months with a different selection," the producer told Stone. "If you think it won't be a problem, we can continue with the interview this evening with the lines explicitly censored, but there is no wiggle room on the censorship, to be clear."
Stone wouldn't budge, however. The coalition reports Stone cancelled her appearance and took to Facebook to describe the incident.
"The writer of the email, the host of the show, was speaking for Columbia University, my alma mater, where I first learned to form the thoughts I was expressing," Stone said on Facebook. "… I wrote back I was appalled."
The coalition also questioned the radio producer's decision, noting "journalistic ethos encourage non-partisan outlets to promote multiple and opposing viewpoints on a wide range of ideas. It is, arguably, especially vital that college radio stations do so; universities are, after all, said to be the quintessential marketplace of ideas."
The coalition adds that: "After the incident generated considerable publicity, WKCR issued an apology and expressed regret for its actions and affirmed its strong belief in 'robust freedom of expression.' NCAC encourages WKCR to demonstrate its commitment to free expression by re-inviting Ms. Stone and allowing her to read uncensored excerpts from her book."
Read the coalition's full post.
MORE: Student denied permission to question school's 'Orwellian speech policing'
Like The College Fix on Facebook / Follow us on Twitter
Like The College Fix on Facebook / Follow us on Twitter