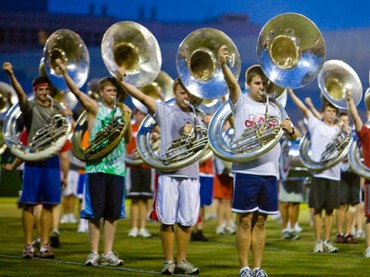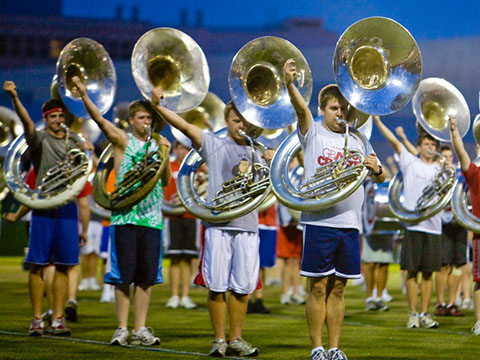 If you thought Columbia University administrators could be mistaken for daycare operators whose main duty is to shelter unusually large toddlers from the outside world – well, you might like the school's marching band.
The band refused the school's pleas to forgo its annual "Orgo Night," where it "pokes fun at virtually every group on campus, providing a light-hearted break for the community during the stressful period before exams," student Bryan Schonfeld writes in the New York Daily News.
See, Columbia was "concerned about heightened tensions after controversial grand jury decisions in New York and Ferguson," Schonfeld says:
But the failed attempt to cancel Orgo Night is but the latest incident in a troubling trend of censorship at Columbia and other campuses nationwide.

At Columbia, a fear of offense permeates classrooms, administrative decision-making, and syllabi. The comedic marching band has been targeted before: In 2012, a former dean of student affairs asked the marching band to take down posters featuring a "Gaza Strip Club" pun — a joke so offensive that it was deployed on national broadcast TV, on "The Simpsons."
Schonfeld rattles off more: Barnard College's student government said that asking a friend out to dinner is a "microaggression," and a popular Columbia class warns students that they would "confront and contemplate materials concerning death, destruction, pain, violence and cruelty on a grand scale":
Harvard psychologist Steven Pinker has alluded to this problem at his own institution, bemoaning that Harvard students are "pressured to sign a kindness pledge suitable for kindergarten" and "muzzled by speech codes that would not pass the giggle test if challenged on First Amendment grounds." Chris Rock recently told an interviewer that he no longer performs for college audiences because they are too easily offended.
The answer? Schonfeld says:
To save the modern university, academics must take a more consistent and more vocal stand for free speech. Let us, the students, focus on our feelings. From our professors, we must hear that education requires diving head-first into the world of ideas and emerging as stronger and smarter individuals.

As students and patriots, our New Year's resolution should be to make 2015 a year of free-speech renewal. From North Korea to northern Manhattan, free speech must know no bounds.
h/t Foundation for Individual Rights in Education
Like The College Fix on Facebook / Follow us on Twitter
IMAGE: Photographer/Flickr