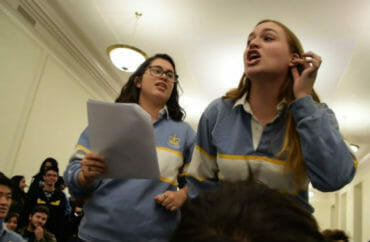 A triumphant return to the library for musical satire
I wasn't a marching band geek in high school, but rather a choir snob.
We never did anything inappropriate while performing in public, other than a mortifying rendering of "Circle of Life" (thanks, Mr. Wenz). That was left to section practices and field trips.
Marching bands, in contrast, always seem to be doing something fun and naughty, and challenging the administrative scolds who try to keep them in line.
It was the female alumni of Stanford's marching band who challenged the administration's "benevolent sexism" when it treated women like snowflakes who couldn't handle double entendres.
Alumni of Columbia's marching band, meanwhile, warned the president he could wave goodbye to their donations if the administration kept shutting down the band's beloved comedy-skit "Orgo Night" in the name of protecting students from offense. (Horror of horrors, it once mocked the Ivy League school's "sexual respect" program.)
For the previous two semesters the Columbia band had been blocked by security from entering the library, where it has traditionally performed at midnight the morning of the organic chemistry final exam.
But this fall it devised an ingenious plan to outsmart administrators and security and return to the library for the first time in a year, as described by the Columbia Daily Spectator.
MORE: Columbia greets politically incorrect band geeks with security guards
How @CUMB circumvented Public Safety to hold Orgo Night inside Butler last night: https://t.co/7deEyokJ35 pic.twitter.com/fKw5RkGVEX

— Columbia Spectator (@ColumbiaSpec) December 15, 2017
Band head manager Vivian Klotz (does the administration have a problem with female-led student organizations?) told the Daily the band prepared for days and drafted a "multi-page long plan":
Band members entered Butler 209 in waves in the hours leading up to midnight, concealing their instruments and gear in backpacks. Larger instruments, such as drums and trombones, were secretly stored in 209 beginning early Thursday morning and were monitored by members throughout the day, Klotz said.

Students began pouring into Butler shortly before midnight on Thursday night, at which point it was unclear whether any members of the band were in the building. Over 200 students were present by midnight, while over a dozen Public Safety officials stood watch at the entrances to the room.

When the clock struck twelve, more than two dozen band members congregated in the center of the room, changed into their CUMB attire, and began playing 'Roar, Lion, Roar.' Though Public Safety officials initially closed off both sets of doors to 209, they began letting students into the room after about 10 minutes. Public Safety officers did not stop band members or take down their UNIs as they left Butler after the performance.
The videos are up on the band's YouTube page. Here's one that mocks Columbia's controversial gentrification of Harlem.
MORE: To protect student feelings, Columbia shuts down comedy skit
The band could face disciplinary action for the stunt, according to the Daily: Student conduct rules "prohibit blocking entrances to University facilities or making noise that hinders other students' academic activities." Columbia has yet to say whether they'll be punished.
We cover a lot of student protests at The College Fix, many of them deeply disruptive to other people's events, full of anger and resentment, falling under the category of "heckler's veto."
But Orgo Night is a celebration, an invitation to laugh at Columbia's campus culture. It's a 42-year-old tradition.
In the midst of the "sexual paranoia" of the 21st-century college campus, it's one of those increasingly rare times when men and women can enjoy something together on the same level.
No one at Columbia should be surprised when the band walks into the library at midnight before the organic chemistry finals.
And no band member should find a summons to appear before a star chamber overseen by their purported First Amendment scholar-president.
Orgo Night is underway in Butler 209; Public Safety is currently preventing anyone from entering pic.twitter.com/S3bh0F39oZ

— Columbia Spectator (@ColumbiaSpec) December 15, 2017
MORE: Columbia marching band tradition disses 'sexual respect' program
IMAGE: Columbia University Marching Band/YouTube
Like The College Fix on Facebook / Follow us on Twitter