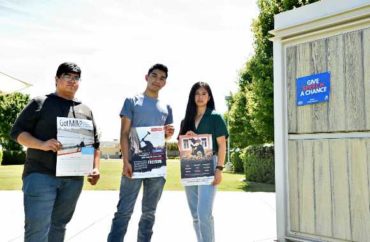 Administrators removed student group's posters condemning socialism and 'progressive ideas'
Three students sued their California community college for its ban on flyers expressing political views and another restrictive student expression policy.
Alejandro Flores, Daniel Flores and Juliette Colunga, founding members of Young Americans for Freedom at Clovis Community College in California, sued administrators to stop a ban on content considered "inappropriate or offensive," according to the federal complaint.
"Administrators of public colleges cannot ban a student group's flyers because some found the message inappropriate or offensive," according to the August 11 complaint, which was filed with the representation of the Foundation for Individual Rights in Expression. Defendants include three administrators at Clovis, including President Lori Bennett.
The College Fix reached out to Clovis Community College on August 15 and received a response from Stephanie Babb, director of marketing and communications. Babb declined to answer questions, and noted that "the district does not comment on pending litigation."
The YAF chapter posted flyers critical of socialism and progressivism in November 2021 for the organization's "Freedom Week," which aimed to condemn socialism and spread the message that "progressive ideas have led to the oppression and deaths of hundreds of millions around the globe," according to the event's website.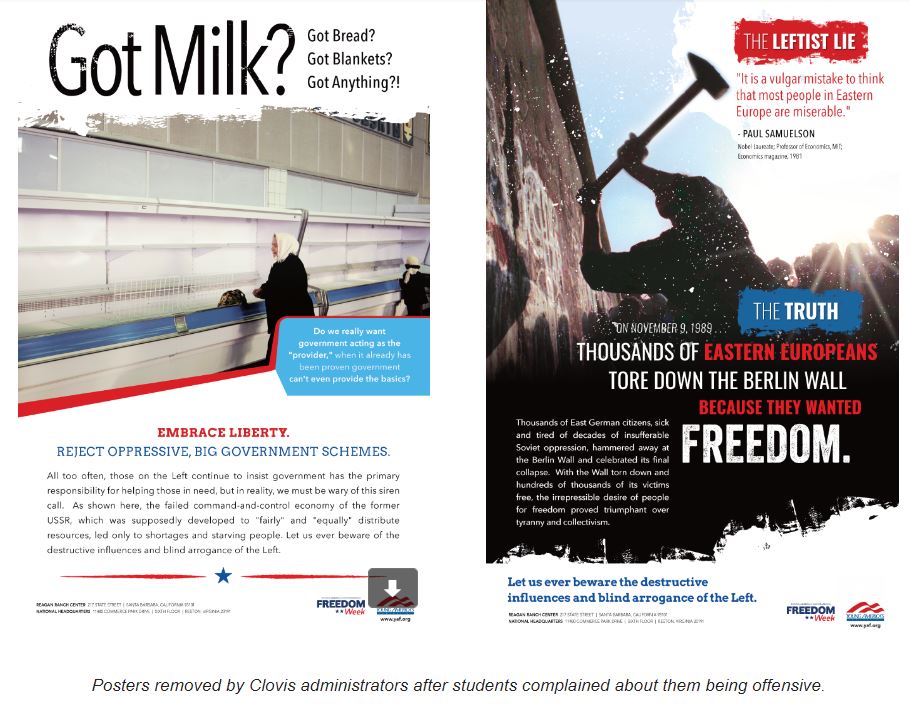 The three students plaintiffs (pictured) "received permission from administrators to hang three flyers on bulletin boards inside Clovis' academic buildings," which the administration later ordered taken down, according to a news release from FIRE.
Clovis administrator Leslie King wrote in November that she had "talked to several people that are very uncomfortable with it, and one person said they would file a harassment claim if these posters don't come down," according to an email obtained by FIRE.
"I just want to confirm that we will be taking down the posters we discussed today, President Lori Bennett wrote in a later email to Dean of Student Services Gurdeep Herbert. "If you need a reason, you can let them know that Marco [De La Garza, vice president of student services] and I agreed they aren't club announcements" and said that "we can discuss the updated list of rules next week."
Clovis' "Poster/Flyer Instructions" at the time of the incident did not specify that student club posting was limited to announcements, according to a document shared by FIRE.
"The [Clovis YAF] chapter has tried to put up posters before, and been successful. Prior to the Freedom Week posters, none of them were ever taken down," Colunga, the president of the club, told The Fix in an August 16 email.
Colunga's hope for the lawsuit is that "that the school introduces and implements a policy that explicitly protects and provides for free speech and the right for students to share their opinions freely on campus, regardless of what those opinions may be," according to her email.
"We often hear about students at well-known institutions standing up for their rights, but it's vital that students on smaller campuses and junior colleges like ours stand up for what's right, " Colunga stated.
"If I had to put a word to the student response on campus I would mostly say that the students are apathetic to getting coddled and spoon-fed opinion," Flores, the vice president, wrote in a separate email to The Fix.
Campus buildings should be open for free speech, FIRE tells The Fix
The Fix also spoke with Jeff Zeman, one of the attorneys from FIRE listed in the lawsuit, about the grounds for the complaint and what he hopes will happen.
Zeman told The College Fix that 1981 Supreme Court case Widmar v. Vincent should be seen as a legal precedent for this case. The Supreme Court ruled in that case that "having opened up its buildings for students' expressive use, a public university could not keep some groups out based on the content of those groups' speech."
"These cases can take a while" and "every case is different," Zeman stated in response to The Fix's questions regarding how he believed the lawsuit would be settled.
"FIRE sees [censorship] across the country, and across the ideological spectrum – censorship coming from both the right and the left," Zeman wrote.
MORE: In 2021, 111 scholars were targeted for exercising their free speech rights: FIRE report
IMAGES: Foundation for Individual Rights and Expression/Facebook & YAF
Like The College Fix on Facebook / Follow us on Twitter