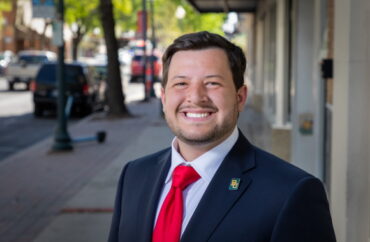 Student politician said he wants to 'refocus on service,' 'actually get something done'
"It's morning in Baylor Student Government."
So says Nick Madincea, Baylor University's new student government leader, who cut his cabinet by more than 50 percent in his first executive order, citing inefficiency concerns with big government.
"As I stepped into this position over the summer, I reflected on the wisdom of President Ronald Reagan and decided the best first action to take was to downsize our student government," Madincea told The College Fix this week about his decision to significantly reduce his support staff team.
The executive order, dated Aug. 25, shrinks the cabinet from 21 members to nine, cutting positions including a photographer, webmaster, director of health and deputy attorney general.
In some cases, positions will be left vacant. In others, several roles will be absorbed into one.
For example, the director of communications will be responsible for the duties of six previously separate roles, including press secretary, director of social media and director of graphic design, according to the executive order.
Madincea told The Fix his order slashed 12 student cabinet positions, or 57 percent, to "refocus on service rather than bureaucracy and actually get something done."
"Big government = big problems = nothing gets done," he wrote in an Instagram post announcing his decision in late August.
Lori Fogleman, assistant vice president of media and public relations at Baylor, a private Christian university in Waco, Texas, declined to comment about the executive order.
"At an institutional level, we don't get involved in specific student government legislation or structure," Fogleman told The Fix.
External Vice President Lily Davis and Internal Vice President McKenzie Arata told the Baylor Lariat student newspaper they support the decision.
"Downsizing the Student Body President's Cabinet has the potential to benefit Student Government and, consequently, the student body overall," the two stated. "In downsizing the cabinet, there can be an increase of ownership, efficiency and accountability."
They continued: "As all of the responsibilities will remain in the office of the Student Body President, the work of those former positions will be completed by Nick's cabinet members. Overall, having a smaller cabinet can better serve the student body by enabling a small group of people to take ownership of projects and hold one another accountable more efficiently."
In a summary of his executive order, Madincea said the press secretary had not issued a press release since 2018. He said student government in the past has been "bloated, ineffective and inefficient."
"Previous administrations have allowed their cabinets to become cantankerous beasts rather than energetic, robust and skilled teams capable of serving the Baylor undergraduate student body well and executing upon the mission statement of the Baylor University Student Government," Madincea continued.
He told The Fix via email, "No excuses, we will serve the people who elected us."
The order will not affect student fees, but he said finances still play a part in his decision.
"It will increase the level of service our students receive and resurrect a very weak Student Government. This will improve the quality of life for our student body through projects like the Airport Shuttle, which I started last year," he said.
The shuttle, which provides low-cost transportation from campus to the Dallas airport, will save students approximately $14,000, compared to the more pricey Uber rides, Madincea told the Baylor Lariat.
Overall, Madincea said he has received support from his peers at Baylor and conservative students nationwide for his downsizing initiative.
"Our generation is craving morality, sanity and common sense in the classroom and on campus. Students are relieved something is actually getting done by their student government," he said.
Grace Lent, a Baylor University junior senator, is another student who supports Madincea's move.
"The downsizing of the Student Body President cabinet has been a necessary and needed action within Student Government," Lent told The College Fix via text message.
She said there was "a lack of efficiency" in previous years, and she hopes the change "allows for an increase in individual responsibility as well as an increase in the intimacy of collaboration."
MORE: Passionate soccer player headlines effort in Calif. to pass 'Protect Girls' Sports and Spaces Act'
IMAGE: Courtesy photo
Like The College Fix on Facebook / Follow us on Twitter